The Pentagon has failed its fourth consecutive audit, according to results detailed Tuesday, while the department's chief financial officer said he sees "steady progress" in the effort to reach an eventual full clean opinion.
Mike McCord, the Pentagon comptroller, noted eight of the 24 military agencies are likely to receive a clean financial opinion, the same number as last year's audit results, and said it's possible but still too early to tell if the full department could pass an audit by 2027.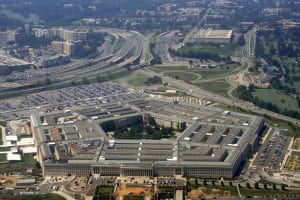 "While we did not increase the count of our unmodified opinions, we have a sound plan in place and we're continuing to follow it. The department continues to make steady progress toward achieving a favorable audit opinion and creating a sustainable audit environment," said McCord, according to a transcript of a briefing with reporters ahead of Tuesday's audit results.
McCord said of the more than 3,400 financial issues identified in last year's audit, the Pentagon has now addressed more than 450, to include closing 49 of 108 information technology-related challenges.
"While I would, of course, prefer to see no problems resurface, we also see these [issue] closures and material weakness downgrades and the overall picture on these to be indicators of progress, especially in light of the fact that each year our remaining open findings and recommendations and material weaknesses are more extensive and more complex, in terms of degree of difficulty, as much of the low-hanging fruit have been picked at this point," McCord said.
The eight offices likely to receive a clean opinion once final audit results are validated include the Military Retirement Fund, the Army Corps of Engineers' Civil Works Program, the Defense Health Agencies Contract Resource Management, DISA's Working Capital Fund, Defense Commissary Agency, the Defense Finance and Accounting Service's Working Capital Fund, the Defense Contract Audit Agency and the DOD's Inspector General's office.
While announcing the results of last year's audit, DoD officials pointed to 2027 as a potential target date to reach a department-wide clean financial opinion based on the trajectory of addressing financial discrepancies and growing the number of individual offices with their own clean opinion (Defense Daily, Nov. 17 2020).
"I think at this point it's a little premature to say that I know that date to be correct or incorrect. I haven't found anything since I've been here that would make me back away from that date," McCord said.
He said the Pentagon is in the process of developing new dashboards for a department-wide database that would allow senior leaders to monitor progress of fixing financial discrepancies in real time.
"So we continue to value the audits as they're driving improved operational efficiency as well as data accuracy," McCord said.
A panel of experts told the Senate Armed Services Committee in April that bolstered data systems for personnel, acquisition and logistics information could help solve the Pentagon's perennial failure to achieve a clean financial audit (Defense Daily, April 27).