A group of Democratic lawmakers are urging President Biden to prioritize nuclear weapons strategic agreements in discussions with China, to include pushing for greater transparency and measures they say could avoid a potential arms race.
In a letter to Biden ahead of his upcoming virtual meeting with Chinese leader Xi Jinping, Sens. Ed Markey (D-Mass.) and Jeff Merkley (D-Ore.) and Reps. Don Beyer (D-Va.) and John Garamendi (D-Calif.), the co-chairs of the new Nuclear Weapons and Arms Control Working Group, proposed five concrete steps the president should address in his discussion as Beijing continues its push to rapidly expand its nuclear weapons stockpile.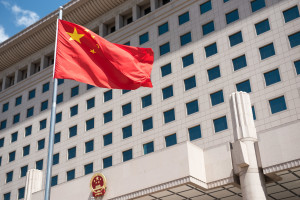 "We fear that the current climate of distrust and uncertainty over recent developments in China's nuclear weapons program may lead both the United States and China to engage in worst-case military planning. That could fuel an arms race that we cannot afford and should seek to avoid," the lawmakers wrote in their letter. "At your upcoming virtual bilateral meeting with Xi, we ask that you propose practical steps to reduce nuclear weapons risks with China."
The letter arrives the same week as the Pentagon published its latest report on China's military activities, including an assessment that Beijing may have an arsenal of at least 1,000 nuclear warheads by 2030, which would be an increase of five times over the 200 warheads the country is estimated to maintain currently (Defense Daily, Nov. 3). 
The lawmakers cite the Pentagon's findings as well as recent reports of China's hypersonic weapon test and construction of 250 new intercontinental ballistic missiles (ICBMs) silos as a "mounting national security concern."
An initial step proposed by the group includes inviting China to observe on-site inspections like those under the recently extended New START Treaty with Russia, which the lawmakers said has totaled 238 inspections since 2011 as well as "thousands of data exchanges related to the location, movement, and disposition of their respective strategic nuclear forces."
"China, whose nuclear doctrine is marked by its opaqueness, could benefit from observing the U.S.-Russia model of binding, verifiable limits on their strategic forces, as well as how to manage access to sensitive facilities," the group writes.
Air Force Gen. John Hyten, the vice chairman of the Joint Chiefs of Staff, said in September he was concerned over the Pentagon's lack of dialogue with China on strategic stability issues, citing Beijing's "almost unprecedented" nuclear modernization initiative (Defense Daily, Sept. 13). 
The lawmakers also propose that Biden "seek negotiations toward a treaty or agreement that stops the additional production of fissile material" and an agreement that China "allows for advance notifications of ballistic missile launches."
Biden should also work to ensure China agrees "to not target or interfere with the U.S.' nuclear command, control and communication infrastructure" and establishes "transparency measures or verifiable limits, or both, on hypersonic cruise missiles and glide vehicles that are mounted on ballistic missiles."
"A top U.S. military official assessed that countries' development of novel hypersonic nuclear systems is due to the exaggerated capabilities of U.S. missile defenses to intercept their strategic forces. Your meeting with Xi and your forthcoming Missile Defense Review can make clear that no current or planned U.S. missile defense system will seek to alter the deterrence value of mutual vulnerability from strategic nuclear weapons," the lawmakers wrote.