The Army announced Friday it has awarded nearly $350 million in full-rate production orders to L3Harris [LHX], Collins Aerospace [UTX] and France's
Thales for deliveries of the service's new two-channel, software-defined radios.
The full-rate production deals for the new Leader and Manpack radios arrives after the service spent two years on operational testing, with plans to field thousands of the devices as a key component to tactical network modernization efforts.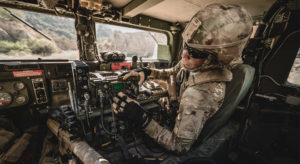 "We continue to enhance our radio capabilities with the vendors based results from the operational test and continued Soldier feedback from radio fielding and operational use," Col. Garth Winterle, project manager for tactical radios with the Program Executive Office Command, Control, Communications-Tactical (PEO C3T), said in a statement. "Full rate production of these radios across the force will provide our warfighters with the most advanced radio network capabilities available for enhanced situational awareness, which is critical for mission success."
For the Leader radios, the Army placed a $118.7 million order covering nearly 2,500 radios from L3Harris and over 1,000 radios from Thales.
The Manpack radio order totals $226.5 million and covers 2,320 radios from L3Harris and 1,547 radios from Collins Aerospace. 
Paul Mehney, spokesperson for PEO C3T, told reporters in a statement that the Army has already fielded a total of four brigade combat teams with the new radios through low-rate initial production.
"Manpack and Leader Radios both are two channel data radios that utilize new mesh networking waveforms to provide commanders both data and voice communication options," Mehney said. "While encouraged by positive feedback for overall communications enhancements, during the radio's Initial Operational Test & Evaluation, the test helped identify areas for an improved suitability and operational experience, which the program office is now implementing and testing."
Mehney said the Army is working on "an aggressive improvement plan" with the industry partners on upgrades for cable and power management and battery logistics operations, with many of the fixes already integrated into the production models of the radios.