Texas A&M University has approved $79.3 million in funding to begin construction this fall of a new complex on its RELLIS campus that will serve as Army Futures Command's central testing hub for next-generation technologies.
The university's board of regents voted Thursday to approve plans for the new Bush Combat Development Complex, which will house a hypersonic weapons test facility as well as a laboratory and proving grounds for future air and ground combat systems.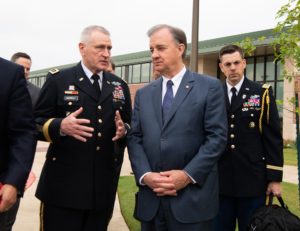 "Today's vote will bring hundreds of millions worth of private investment to Central Texas as these facilities come to life. Simply put, this is where American defense contractors will want to set up shop if they want to work with the U.S. Army Futures Command," said Elaine Mendoza, chairman of the Texas A&M System board. 
Last August, Texas A&M's board of regents approved plans to build $130 million testing complex on its RELLIS campus by June 2021, with university officials calling the facility a "living laboratory" that will serve as the "the hypersonics research capital of the country" (Defense Daily, Aug. 8 2019). 
The university's Engineering Experiment Station has already signed a $65 million cooperative research agreement with the Combat Capabilities Development Command-Army Research Laboratory, according to Thursday's announcement, while noting the Texas State Legislature has also appropriated $50 million for Texas A&M's support of Futures Command. 
"This is a historic vote," John Sharp, chancellor of The Texas A&M University System, said in a statement. "Today's vote will not only transform Texas A&M and the RELLIS campus, it will transform Central Texas and the U.S. Army."