Oshkosh Defense [OSK] has established a new joint venture with Saudia Arabia's Al Tadrea Manufacturing Company (TMC), with initial plans in place to design and produce vehicles based on the American firm's Family of Medium Tactical Vehicles (FMTV) 4×4 chassis.
Mike Ivy, Oshkosh's senior vice president for international programs, told Defense Daily the two companies have already been working together for two years and noted that Al Tadrea is Saudi Arabia's leading armored car manufacturer.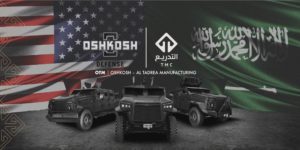 "We are excited to partner with this long-established Saudi company at a moment of huge historical change within the Kingdom. The new venture will also significantly contribute to the goals of [Saudi Arabia's] Vision 2030 through job creation, localizing defense spending and contributing to a strong and diverse economy," Ivy said.
The new Oshkosh-Al Tadrea Manufacturing (OTM) JV was made official during a virtual ceremony on Wednesday.
"Oshkosh Defense is a producer of tactical wheeled military vehicles for use by a variety of customers worldwide. OTM vehicles will continue the legacy of existing Oshkosh-branded vehicles and will provide its customers with extraordinary functionality and durability in a variety of settings," Ivy said. 
OTM will be based in Saudi Arabia, with Oshkosh adding the initial vehicle based on its FMTV will be the country's first domestically produced logistics vehicle with a protected armor capsule.