The Navy announced a virtual industry day for a new class of the Next Generation Logistics Ship (NGLS) to be held on June 25.
The Navy announcement was posted in a May 15 notice on beta.sam.gov. It explained the NGLS "is planned to be a new class of ships to augment the current Combat Logistics Force ships, through the use of commercial ship designs tailored for military applications to conduct logistics missions."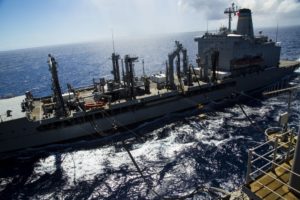 The notice was posted for the Naval Sea Systems Command's Support Ships, Boats, and Craft program office, PMS-325.
The industry day will be held via teleconference and be split into two sessions. The first session will be a Navy-led briefing of the NGLS program while the second session will provide same-day answers to industry questioners.
The Navy notice explained one objective of the event is to gain feedback from industry while the government will use the engagement information to promote additional market research, advance its analysis of alternatives, and continue developing program characteristics.
The service explained it sees NGLS as smaller than current ships in the Combat Logistics Force to operate near contested environments and will sustain surface action groups and expeditionary advanced base requirements. The notice said the Navy is considering several kinds of commercial vessels that might be able to perform these missions, including Platform Supply Vessels, Fast Supply Vessels, or other types of Offshore Support Vessels.
The Navy envisions acquiring NGLS by converting existing vessels, new construction, or a combination of conversions and new construction to reach the required amount of NGLSs.
The NGLS program aims to enable refueling, rearming and resupply of afloat and ashore naval assets in support of the newer strategies of Distributed Maritime Operations (DMO), Littoral Operations Contested Environment (LOCE), and Expeditionary Advanced Base Operations (EABO).
This notice comes after the Navy's FY 2021 budget request sought $30 million in research and development funds for a new medium logistics ship that "will be a platform support vessel to support theater lift requirements" (Defense Daily, Feb. 20).
The budget documents said the new logistics vessel program comes after the Navy established an Intra-Theater Auxiliary Logistics Platform Task Force to evaluate the next generation medium platform solution to support the LOCE and DMO strategies. It also noted the Navy would look at a "family of vessels with commercial designs tailored for military applications."
The notice said industry day attendees should consist of shipyards, design agents, Offshore Support Vessel owners, suppliers of cranes and other material handling equipment, "and other potential industry sources capable and interested in potentially building or participating in the build process for the NGLS program to meet the mission requirements."
It also said companies with experience converting existing platforms "are also encouraged to attend." Interested attendees should register via email by June 15.