A federal judge has ordered the Pentagon and Microsoft [MSFT] to pause work on the potential $10 billion Joint Enterprise Defense Infrastructure cloud program while the court considers Amazon's [AMZN] legal challenge of the contract award. 
A summary of a sealed opinion filed by a Federal Claims Court judge on Thursday includes a stipulation that Amazon Web Services must provide $42 million, to be held until the case is closed, to cover potential losses associated with the program delay.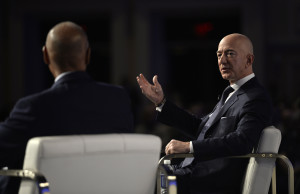 "We are disappointed in today's ruling and believe the actions taken in this litigation have unnecessarily delayed implementing DoD's modernization strategy and deprived our warfighters of a set of capabilities they urgently need. However, we are confident in our award of the JEDI cloud contract to Microsoft and remain focused on getting this critical capability into the hands of our warfighters as quickly and efficiently as possible," DoD spokesman Lt. Col Robert Carver said in a statement.
Pentagon CIO Dana Deasy has previously detailed plans to stand up the unclassified environment for the JEDI cloud by mid-February (Defense Daily, Dec. 12). 
 "While we are disappointed with the additional delay we believe that we will ultimately be able to move forward with the work to make sure those who serve our country can access the new technology they urgently require. We have confidence in the Department of Defense, and we believe the facts will show they ran a detailed, thorough and fair process in determining the needs of the warfighter were best met by Microsoft," Frank X. Shaw, Microsoft Communications' corporate vice president, said in a statement to Defense Daily.
Microsoft beat out AWS for the JEDI cloud contract in October, following two years of program delays, allegations of conflict of interest, pre-award protests and congressional and industry pushback over the Pentagon's decision to go with a single-award approach.
Amazon announced in November that it would be protesting the contract award, claiming the evaluation process included "deficiencies, errors, and unmistakable bias," ultimately deciding to file a lawsuit with U.S. Court of Federal Claims rather than challenging the decision with the Government Accountability Office (Defense Daily, Nov. 15).
Earlier this week, AWS told Defense Daily the company is seeking to depose President Trump and Defense Secretary Mark Esper in the ongoing legal challenge (Defense Daily, Feb. 10). 
New court documents unsealed on Monday called for testimony from senior officials on allegations the Pentagon left out critical details in its explanation of the decision to award the contract to Microsoft and the president's bias to "screw Amazon" in the competition.