The Navy's FY 2021 budget request plans to end F/A-18E/F Super Hornet production following FY '21 and redirect $4.5 billion into a next generation fighter.
"The F/A-18E/F Super Hornet investment was redirected to fund accelerated development of Next Generation Air Dominance (NGAD) and other key aviation wholeness investments," a Navy FY '21 budget highlights book said.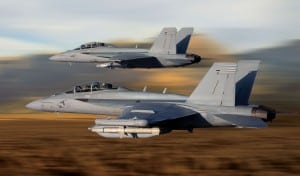 The service is requesting 24 F/A-18 E/F Super Hornets in FY '21 for $1.76 billion, but is canceling the plans from the FY '20 request to buy 12 more per year from FY '22-24.
The Navy bought 24 Super Hornets each from FY 2019-20 and the 24 FY '21 buy is the last part of a three-year multi-year procurement contract. The authority for the contract was given in the FY 2019 defense authorization bill.
The service has been reluctant to say what will specifically be included in the NGAD work, other than it will be a future replacement for the larger F/A-18 and EA-18G family of systems as they reach the end of their service lives in the 2030s.
Back in 2017, Rear Adm. Richard Brophy, now commander of the Naval Aviation Warfighting Development Center, was a captain and working on an NGAD study. He said the service was looking into replacing carrier aviation forces holistically. This included incorporating longer ranges, propulsion, high speed, stealth, unmanned and artificial intelligence (Defense Daily, July 24, 2017).
Now, the Navy highlight book said the decision to cease F/A-18 procurement after FY '21 "ensures the Carrier Air Wing will maintain capable strike fighter capacity to pace the most stressing threat through the 2030s."
If Super Hornet production ends after 2021 procurement, the Navy will have procured a total of 678 F/A-18 E/F aircraft.