Lockheed Martin [LMT] has appointed a new leader for its work pursuing the Army's Future Vertical Lift (FVL) helicopter programs, moving over the vice president of the company's F-35 Lightning II fighter jet business.
Andy Adams, who also spent 29 years with the company's Skunk Works advanced development program, will head the Raider X and SB-1 Defiant helicopters programs, aligned with the Army's Future Attack Reconnaissance Aircraft and Future Long Range Assault Aircraft competitions, respectively.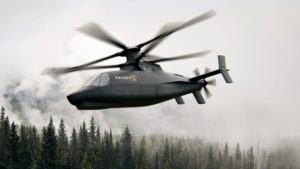 "This appointment emphasizes that Lockheed Martin is bringing the full strength of its portfolio to FVL and demonstrates that the corporation is prepared to support accelerated fielding of these capabilities," the company wrote in a statement. "Andy brings unique skills to the role based on his deep involvement in the pursuit, capture and execution of highly complex, highly contested capture campaigns."
Lockheed Martin said Adams' appointment and transition from the company's Aeronautics division to the Rotary and Mission Systems business will be effective Nov. 18.
"For more than a decade, Sikorsky, a Lockheed Martin company, has been investing in game-changing X2 technology to support our customers' FVL missions with increased speed, agility and maneuverability. Coupled with our adaptable mission systems, sensors, weapons, advanced manufacturing, and training and sustainment solutions, Andy will ensure we bring the best of Lockheed Martin to Future Vertical Lift," Frank St. John, executive vice president of Lockheed Martin Rotary and Mission Systems said in a statement. "He will lead the way as we advance industry and supplier partnerships with a stronger, centralized effort to meet our customers' critical missions."
Last month, Lockheed Martin unveiled the design of the Raider X aircraft, being offered by its Sikorsky subsidiary for the FARA competition, which is based off the S-97 Raider (Defense Daily, Oct. 14). 
The Army released a request for proposals in September for the FLRAA competitive demonstration phase. The RFP follows the Joint Multiple Role-Technology Demonstrator (JMR-TD) program that featured Boeing [BA]-Sikorsky's SB-1 Defiant and Bell's [TXT] V-280 tiltrotor, and was used to inform FLRAA requirements.