The Army is "about halfway" to establishing its multi-cloud computing ecosystem, the service's chief information officer said Thursday, as it looks to scale up cloud services through an ongoing tiered approach.
"This is the journey we're on. This is the vision. I'd say we're probably about halfway there already. So if you want to look at this as a three-step process, we've completed the first step, we're halfway through the second phase. The third phase is truly scaling this across the Army," Army CIO Raj Iyer said during a FedScoop event.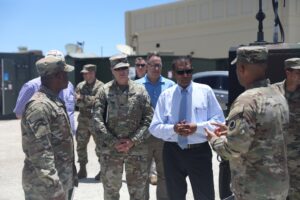 The Army's new digital transformation strategy released last October detailed the service's plan to overhaul its technology capability and services by 2028, to include establishing a new "cArmy hybrid global cloud that is resilient, secure, and able to share computing and storage resources seamlessly for enterprise and tactical applications" (Defense Daily, Oct. 20).
"For us, cloud is not just another place to go host applications. Yes, we do that. We do that pretty well. But, quite frankly…it's become very clear to us that cloud for us is our new warfighting platform," Iyer said, noting the Army first set out on its path for a multi-cloud ecosystem a year and a half ago. "And the data that flows through [the cloud] for decision making and how we're using that to connect sensors to shooters, that means data is our new ammunition. That is how the Army is transforming digitally today."
The first tier, Iyer said, has been focused on establishing commercial cloud capability for Army installations in the continental U.S., to include successes last year working with commercial hyperscale cloud providers to establish Impact Level 2, 5 and 6 cloud environments.
"That's up and running. We've done a great job migrating some of our most complex mission critical applications to the cloud, including our three SAP ERP [logistics] systems. Everybody said you couldn't do it. We did," Iyer said.
Iyer noted another key piece to this effort is the continued "draconian drastic reduction" in data centers, with the Army planning to cut its more than 300 physical data centers in half and reduce its enduring data centers from 12 to six.
"When you get down to a smaller number of data centers, the plan is to turn these into private clouds. We're not there today. Each of these data centers are siloed. They have legacy architectures and legacy infrastructure in there and they're poorly networked. But if we truly believe hybrid cloud, and we do, then we've got to make sure that we're integrating these on-premise compute and store resources with our commercial cloud so that we have one integrated architecture," Iyer said.
The second tier for the multi-cloud effort is aimed at establishing compute and store capabilities at Army installations outside the continental U.S., which Iyer cited as a particular challenge to ensure compliance with data sovereignty laws.
"This one is a tricky one because, as much as we want to leverage commercial cloud outside the United States, the problem with data sovereignty rules prevent us from establishing or actually leveraging true commercial capability," Iyer said. "So what we're doing there is taking our data centers in Germany, Japan, Europe and in the Middle East and establishing them as extensions of our Army cloud in those OCONUS regions. There's tremendous opportunity there for us to work with industry to establish those."
Tier three of the Army's multi-cloud effort is set on establishing the ecosystem for the tactical edge, with Iyer noting the commercial cloud providers have advanced capabilities in the space by working with LEO and MEO satellite communications providers to bolster data transport capabilities.
"It's really important for us now to leverage small form factor compute and store [capabilities] at the edge to provide compute capacity for all kinds of mission command-type applications," Iyer said. "When you do that, one of the things we have to acknowledge would be that in a highly-contested environment we're not going to have the bandwidth that we're going to need. It's going to be intermittent. It's going to be contested. And when that happens your transport now becomes a problem. So we can't really solve this multi-cloud problem unless we also address the transport issue"
Iyer noted soldiers in the 82nd Airborne Division have cloud capabilities right now during their current deployment to Poland.
"We've already shown that we can now move these tactical applications to the cloud in forward-deployed locations in the hands of the warfighters now, today. That's real. So that's a huge gamechanger," Iyer said.
The final tier aims to bring multi-cloud capability to the dismounted soldier, to ensure the Army can make best use of the data and sensor capabilities associated with new capabilities such as the Integrated Visual Augmentation System (IVAS) headset.
"There's now a requirement for that kind of compute capacity for the dismounted soldier, and that's again part of IVAS and NETT Warrior and all these other programs that are currently under implementation. Many of them are under prototype right now, they're getting evolved. But as you can see, our cloud infrastructure extends all the way from CONUS down to the individual dismounted soldier out there," Iyer said.