The Pentagon on Thursday detailed specific programs to be impacted under a potential six-month continuing resolution, such as halting Army helicopter and Stryker production increases and development of the Air Force's F-15EX, with officials now preparing to work with lawmakers on including exemptions in the next stop-gap funding bill.
Jonathan Hoffman, the department's top spokesman, told reporters during a briefing Pentagon leadership has outlined high-priority line items they would like to see included in the next CR, specifically securing funds for Space Force development.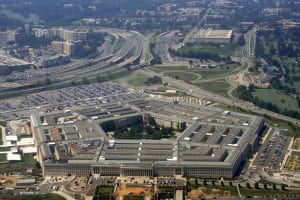 "Two weeks from today the current continuing resolution will expire. The department urges our congressional partners to pass a budget at this time. The six-week CR has been problematic, another long-term CR will be more so," Hoffman said during a press briefing. "We have ongoing conversations with Congress on the things that need to be dealt with. One example is Space Force. A CR does not allow us to create Space Force. That's been a priority. It's something that we've been moving on that path and we would like to continue to get to."
Congress previously passed a CR to keep the government open through at least Nov. 21. While the move locks in defense spending at last year's funding levels, it effectively halts the department from starting new programs and moving forward on procurement increases.
As lawmakers consider passing another month-long CR, the president on Nov. 3 would not commit to signing another bill to prevent a government shutdown until he saw details of the final deal (Defense Daily, Nov. 4).  
Following Thursday's briefing, the Pentagon sent a detailed list of high-priority programs that will be affected if a CR extends into the new year.
For the Army, production increases for 31 programs will be delayed, including for the UH-60M Black Hawk helicopters and upgrades for Stryker fighting vehicles. 
Modernization efforts for the Army's Assured-Positioning, Navigation and Timing Cross Functional Team would also be delayed "preventing procurement of new capabilities valued and halting the current fielding of systems to 2nd Cavalry Regiment and rotational Armored Brigade Combat Teams executing missions across Europe," according to the Pentagon. 
The Air Force would have to reduce several munitions procurement efforts, to include 1,000 Joint Direct Attack Munition tail-kits, 99 Sidewinder air-to-air missiles and 665 Small Diameter Bomb II munitions.
"F-15EX development and production will be delayed, which will force the Air Force to operate and sustain an aging F-15C fleet longer than planned, incurring added extensive maintenance actions," the Pentagon added. 
The Navy would face operation and maintenance setbacks that will affect 14 ship availabilities, as well as delaying delivery of one Virginia-class submarine, one Fleet Ocean Tug and two Landing Craft Utility vessels.