The Navy is in the process of creating a second unmanned undersea vehicle (UUV) developmental squadron while the first one will be made into a major command, a top official said Wednesday.
"We have a ton of UUVs that are out there doing real world mission, and we're continuing to take the next step in reorganizing the fleet, to bring unmanned to fleet scale," Vice Adm. Chas Richard, commander of Submarine Forces and Submarine Forces Atlantic, said at the annual Naval Submarine League Symposium in Arlington, Va.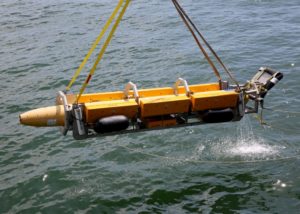 Richard said the Navy is "well underway" standing up the second UUV development squadron, UUVRON 2, on the East Coast.
"The next step, and we're still working on it, is to break UUVRON 1 out of [Submarine Development Squadron, DEVRON] 5, make her a major command in her own right, put her in San Diego, combine with undersea rescue, then have two flotillas underneath it." A third flotilla would then be dedicated to Extra Large Unmanned Undersea Vehicles (XLUUVs).
"So this is the next step in standing command and control capacity for unmanned systems," he added.
UUVRON 1 was established n September 2017 and has been developing tactics, techniques, and procedures for how the Navy will use UUVs. DEVRON 5 is an operational command that oversees the Seawolf-class nuclear powered attack submarines.
In May, the Navy established Surface Development Squadron One (SURFDEVRON 1) in San Diego to man, train, and equip Zumwalt-class destroyers and integrate medium and large unmanned surface vessels (MUSVs and LUSVs) for the fleet. That squadron is working to support fleet experimentation using those vessels and accelerate new warfighting concepts to the fleet (Defense Daily, May 24).