Sikorsky's [LMT] CH-53K King Stallion has been selected as Israel's future heavy-lift helicopter, beating out Boeing's [BA] CH-47 Chinook offering.
The CH-53K will replace Israel's fleet of Yassur heavy-lift aircraft, in service since the 1960s, with officials planning to approve a procurement request as soon as possible.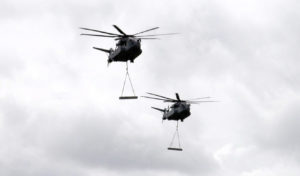 "The decision to purchase new heavy lift helicopters for the [Israeli Air Force], after decades, is a significant step in progressing the IDF's force build-up. It is also essential to the IDF's ability to carry out a wide range of operational activities. The new helicopter is adapted to the [IAF's] operational requirements and to the challenges of the changing battlefield," Benny Gantz, Israel's defense minister, said in a statement following the announcement on Feb. 25.
Israel is now the first international customer for the CH-53K, which is currently being produced for the U.S. Marine Corps with the first delivery set for this year. 
"We are confident that Lockheed Martin's CH-53K helicopter is the safest, most capable, most reliable and most efficient solution to meet the needs of the Israeli Air Force (IAF). As we continue our long-standing partnership with Israel, we remain committed to supporting the IAF and providing them with the premier heavy-lift helicopter for their critical missions, which will help strengthen Israel's national security for decades to come," Lockheed Martin, the parent company of Sikorsky, said in a statement. 
Germany is also considering the CH-53K as option as a replacement for its CH-53G heavy-lift helicopters, recently rebooting its competition with plans to solicit bids from Sikorsky and Boeing's baseline H-47 Chinook (Defense Daily, Jan. 29).