NATIONAL HARBOR, Md. —Lockheed Martin's [LMT] Sikorsky is aiming to reach a delivery rate of three CH-53K King Stallion heavy lift helicopters per month once the program reaches full-rate production, to include aircraft being built for international customers, according to a company official.
"Right now, we're probably in a delivery about every three months. When we get to full-rate production, we'll be delivering two aircraft per month, or 24 a year. And then when we stack international [orders] on top of that, we'll be building out the capacity in the factory to deliver three aircraft per month. That's a capacity for 36 per year," Bill Falk, Sikorsky's program director for CH-53K, said during a briefing here at the Navy League's SeaAirSpace Conference.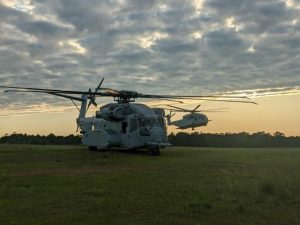 With Israel now approved to serve as the first international customer for CH-53K, Col Jack Perrin, the Marine Corps' program manager for heavy-lift helicopters, said during the same briefing that negotiations are being worked to begin deliveries in the 2025-26 timeframe.
"Depending on when we get on contract with [Israel] and then depending on how fast [Sikorsky] can build them, we'll be delivering them I believe in the '25/'26 timeframe before they actually get delivered to Israel. But, again, that schedule is in flux until we get on contract and we see exactly what they want, what they want to do and before we can have a firm schedule for that," Perrin said.
The State Department last week approved a potential $3.4 billion deal with Israel for the sale of 18 CH-53Ks, which will serve as a replacement for the country's legacy CH-53D Yasur fleet (Defense Daily, July 30).
Perrin confirmed that the Marine Corps officially started the initial operational test and evaluation phase for the CH-53K program in July and that it's expected to be completed by next February, with a target to date to reach initial operational capability this fall following delivery of the first low-rate initial production (LRIP) Lot 1 helicopter.
"I think we're progressing quite well there. Like I said, the [first LRIP] aircraft's in the hangar. We're putting on the blades and fueling it up," Falk said.
Falk noted Sikorsky has seven LRIP CH-53Ks in varying stages of production at its Connecticut manufacturing facilities, to include another four helicopters in final assembly build and two others going through airframe modifications.
Sikorsky was awarded an $878.7 million deal in June for Lot 5 production covering nine CH-53Ks, along with an option for nine more platforms under a Lot 6 contract (Defense Daily, June 25).
The Marine Corps is slated to make a full rate production decision in FY '23, followed by first scheduled deployment in FY '24, with a plan to achieve full operational capability in 2029.