Germany announced Wednesday it has officially selected Boeing's [BA] CH-47F Block II Chinook as the replacement for its CH-53G heavy-lift helicopters, with plans to purchase 60 of the new aircraft.
Boeing had been competing against
Sikorsky [LMT], which offered its CH-53K platform, with the German government set to procure the CH-47F Block IIs through the U.S.' foreign military sales process.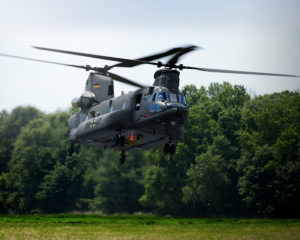 "We thoroughly weighed up the pros and cons, as well as the risks – and then came to a unanimous decision in favor of this model. The Chinook is modern and proven. With this model, we are strengthening our cooperation capability in Europe. In addition, we get a larger fleet here and gain flexibility," Germany Federal Minister of Defence Christine Lambrecht said in a statement, translated from German to English.
In January 2021, Germany officially rebooted the "Schwerer Transporthubschrauber", or "STH," heavy-lift helicopter competition after previously announcing plans in the fall of 2020 to scrap the program over budgetary concerns (Defense Daily, Jan. 29 2021).
Germany is now set to be the ninth NATO operator of the CH-47, and the 20th overall international customer for the Boeing-built heavy-lift helicopter.
"Boeing is honored the German government has selected the CH-47F Chinook for its STH heavy-lift helicopter requirements. With the Chinook, Germany will operate the most affordable, proven and NATO interoperable heavy-lift helicopter. We look forward to working with the U.S. and German governments to finalize this sale under the Foreign Military Sales process," the company wrote in a statement.
Boeing noted its team for the program includes AERO-Bildung, Airbus Helicopters, CAE [CAE], ESG, Honeywell [HON], Lufthansa Technik and Rolls-Royce Deutschland.
Earlier this year, German Chancellor Olaf Scholfz announced plans to massively boost its defense spending in 2022 with a new $112.1 billion security fund for military modernization and that the country will now invest more than two percent of its GDP on defense annually moving forward (Defense Daily, Feb. 28).
Last March, Israel selected Sikorsky's CH-53K over Boeing's CH-47 for its own program to find a replacement for its fleet of Yassur heavy-lift aircraft, in service since the 1960s (Defense Daily, March 1 2021).