Lockheed Martin [LMT] and MBDA Deutschland
have submitted a final, updated proposal to develop Germany's next air and missile defense system, set to be a first-of-its-kind 360-degree, networked integrated capability, the companies said Friday.
The proposal for the TLVS system follows a series of negotiations with the German government over the last several months to resolve details around specific requirements from the bid it submitted in June 2019.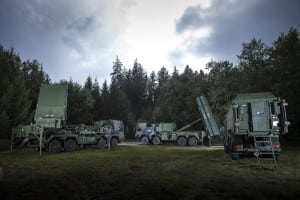 "In the last months we made progress in further detailing the Integrated Master Schedule, relevant specifications as well as performance simulations to de-risk the future contract," Thomas Gottschild, managing director of MBDA Deutschland, said in a statement.
The latest proposal also includes details for development, test certification and delivery timelines for TLVS, according to Lockheed Martin.
Germany has previously selected the two companies' joint venture to work on the potential multi-billion dollar TLVS program, which is set to begin fielding in 2022 as a replacement for the country's Patriot defense systems.
TLVS is expected to incorporate a short range interceptor built by Germany's Diehl, Lockheed Martin's PAC-3 interceptors, surveillance and fire control radars, and battle management systems that are entirely networked together (Defense Daily, June 24).
Lockheed Martin and MBDA Deutschland's work on TLVS grew out their participation in the multi-national Medium Extended Air Defense System (MEADS) program to test next-generation missile defense capabilities.
"TLVS will transform Germany's defense capabilities and set an important precedent in how neighboring nations address persistent global threats for years to come," Lockheed Martin wrote in a statement.