The U.S. has approved sending another $700 million in weapons assistance to Ukraine, with the new package including the first delivery of longer-range rocket systems to launch precision-guided munitions.
Ukraine will specifically receive four Lockheed Martin
[LMT]-built High Mobility Artillery Rocket Systems (HIMARS) as part of the weapons package, which is the first to be announced under the recently passed $40 billion Ukraine aid supplemental.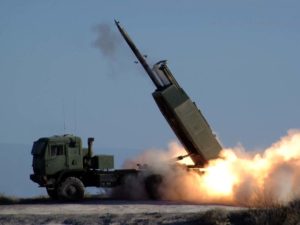 "Today, I am announcing a significant new security assistance package to provide timely and critical aid to the Ukrainian military. Thanks to the additional funding for Ukraine, passed with overwhelmingly bipartisan support in the U.S. Congress, the United States will be able to keep providing Ukraine with more of the weapons that they are using so effectively to repel Russian attacks. This new package will arm them with new capabilities and advanced weaponry, including HIMARS with battlefield munitions, to defend their territory from Russian advances," President Biden wrote in a statement.
The announcement arrives after debate over whether providing more advanced rocket systems may risk escalation in the ongoing conflict, while Ukraine has cited the capability as a top priority in its ongoing fight against Russia's invasion.
Colin Kahl, under secretary of defense for policy, told reporters Wednesday the HIMARS launchers and munitions are being provided with assurances from Ukrainian leadership that they would not be used to strike targets in Russian territory.
"This system will provide Ukraine with additional precision and targeting at range. The Ukrainians have given us assurances that they will use this system for defensive purposes only," Kahl said. "Ukraine is defending their territory. Anything they're doing on the territory of Ukraine is defensive in this context. The formal assurance is that they will not use these systems to target Russian territory."
Kahl declined to specify how many rocket rounds the U.S. will provide as part of the new package, while noting the guided munitions can reach ranges of up to 70 kilometers which is double the capability of the howitzers previously provided to Ukraine.
"The systems that we're providing, the HIMARS and the guided munitions that go along with them, will allow Ukraine to range any target they need for that fight inside Ukrainian territory. These systems would not be particularly useful to hit a Russian bomber launching an air-launched cruise missile hundreds and hundreds of kilometers away anyway. So we think we're giving them the capability they need for this stage of the fight," Kahl said.
The $700 million weapons package, which is the 11th such drawdown from existing DoD stockpiles, also includes five counter-artillery radars, two air surveillance radars, 1,000 Javelin anti-tank missiles, 6,000 anti-armor weapons, 15,000 155mm artillery rounds, four Mi-17 helicopters and 15 tactical vehicles according to the Pentagon.
President Biden on May 21 signed the new $40 billion Ukraine emergency aid supplemental funding bill, which includes $6 billion for the Ukraine Security Assistance Initiative to procure military equipment to send to Kyiv to aid in its ongoing fight against Russia's invasion, another $8.7 billion to help replenish stockpiles of U.S. weapons sent via drawdown authority and $3.9 billion to support European Command operations.
To date, the U.S. has now committed more than $5.3 billion in security assistance to Ukraine since the start of the Biden administration, to include more than $4.6 billion since the beginning of the Russian invasion.