The Office of Naval Research (ONR) last week awarded Raytheon Technologies [RTX] a $33 million contract for work to launch the Coyote Block 3 unmanned aircraft from unmanned vessels.
The Coyote Block 3 autonomous strike program is a "rapid capability effort to achieve operational launch capability from Unmanned Surface Vessels (USVs) and an unmanned underwater vessel (UUV)," a contract announcement said Feb. 26.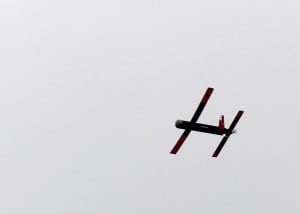 The program's intention, via intended concept of operations and tactics, techniques and procedures, is to provide intelligence, surveillance and renaissance (ISR) as well as precision strike capability from Navy maritime platforms.
Moreover, the contract announcement said demonstrations of High Volume Long Range Precision Strike from USVs and Fires from UUVs will leverage prior efforts like the Innovative Naval Prototype (INP) and progress on the Mobile Precision Attack Vehicle (MoPAV).
The overall program is referred to as the Autonomous Swarm/Strike-Loitering Munitions effort.
The Coyote is an expendable, small, tube-launched unmanned aircraft system (UAS) that can be used to destroy drones and other aerial threats. It is advertised as able to be flown individually or in swarms and defeats targets by colliding with them or exploding nearby. The Block 2 variant improves on Block 1 by using a jet engine for higher speeds and a new effector.
The Block 3 is intended to be larger while adding more ISR capabilities.
Work will occur in Tucson, Ariz., and is expected to be finished by February 2024. The $33 million contract value includes a one-year base period and 12 option periods.
$9.5 million in fiscal year 2021 Navy research and development funds were obligated at the time of award and will not expire at the end of this fiscal year.
DoD said the contract was competitively procured under a Long Range Broad Agency Announcement, but the total number of responses is unknown since proposals will be received through the year.
Last year, the U.S. government approved the sale of the Coyote Block 2 weapon to allied countries as part of the Howler counter UAS (CUAS) system (Defense Daily, March 17, 2020).
Back in 2016, ONR conducted a swarming technology demonstration with 33 Coyote UAVs tube-launched within three minutes from a ship in the Gulf of Mexico. The aircraft showed they could form up, fly, break off, engage, come back, fly, and land on shore (Defense Daily, July 17, 2018).