The Navy on Friday awarded Austal USA a $235 million contract modification for the detail design and construction of the Spearhead-class Expeditionary Fast Transport (EPF) 15.
The Defense Department contract announcement on Feb. 26 noted the EPF class "provides high speed, shallow draft transportation capability to support the intra-theater maneuver of personnel, supplies and equipment for the Navy, Marine Corps, and Army."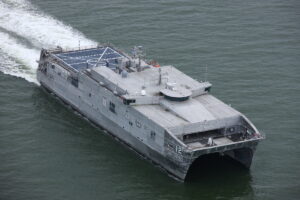 EPFs are non-combat ships operated by Military Sealift Command that operate in shallow-draft ports and waterways to transport troops, vehicles as well as operate humanitarian assistance, special operations support, and logistics support missions.
They have a flight deck, can interface with roll-on/roll-off facilities, and can carry up to one fully combat loaded Abrams main battle tank. EPFs can carry up to 600 short tons to a distance of 1,200 nautical miles at an average speed of 35 knots.
Under the recent fixed-priced-incentive firm-target undefinitized contract modification, the construction will mostly be split among Austal's shipyard in Mobile, Ala. (63 percent), as well as Fairfax, Va. (10 percent), and Novi, Mich. (10 percent). The work is expected to be finished by March 2024.
$60 million in fiscal year 2021 Navy shipbuilding accounts was obligated at the time of award and will not expire at the end of this fiscal year.
In a press release, Austal USA said the EPF program overall is operating on schedule and under budget, having delivered 12 ships total to the fleet.
The company underscored EPF-15 will have "enhanced medical capacity to increase its operational capability," similar to how EPF-13 and 14 were modified for additional expeditionary medical capability.
"At its core, the EPF is designed to be highly capable, flexible and affordable. With this baseline, we've been able to deliver multiple ships that are performing different missions for the U.S. military," Austal USA Chief Financial Officer and Interim President Rusty Murdaugh said in a statement.
"The award of EPF 15 allows the Navy to leverage a hot production line and highly trained workforce to continue producing ships that are meeting the needs of warfighters today and into the future," he added.
Austal noted the EPF's draft of 13 feet and waterjet propulsion allows it to access "austere and degraded ports with minimal external assistance."
Last September the Navy accepted delivery of the future USNS Newport (T-EPF-12) after it completed integrated sea trials in July. At the time, the company said it was on production on the future shops Apalachicola (EPF-13) and under contract to build the Cody (EPF-14).
EPFs have a crew of 26 civilian mariners with airline-style seating for up to 312 embarked troops and fixed berthing for another 104 personnel.