The House on Tuesday evening passed a stopgap funding bill to keep the government open through Dec. 11, with the Senate also likely to pass the bipartisan measure, potentially this week.
The continuing resolution, which passed on a 359 to 57 vote, includes an exemption allowing the Navy to move forward on procurement of the first two Columbia-class submarines and extends the deadline for defense contractors to submit COVID-related claims for reimbursement out to that December date.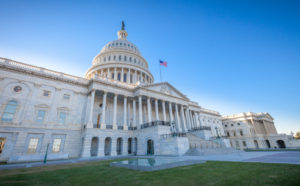 "This CR reflects bipartisan agreement and includes nearly $8 billion in desperately needed nutrition assistance for struggling Americans. This victory for our Democratic priorities is a prelude to the work we will do in negotiating full year appropriations bills that invest for the children and for the people," Rep. Nita Lowey (D-N.Y.), chair of the House Appropriations Committee, said in a statement.
The proposed CR does not include two additional defense-related anomalies that the White House had requested, omitting provisions to fund initial development of the W93 submarine-launched nuclear warhead and a call to transfer several accounts from the Air Force's budget to the new Space Force (Defense Daily, Sept. 21).
Sen. Mitch McConnell (R-Ky.), the Senate majority leader, indicated support for the bill now that it included several provisions not present in House Democrats initial draft, such as a bailout program for assistance to farmers and nutrition assistance funding.
"I know all members will carefully review the Continuing Resolution sent over by the House. I'm optimistic that with bipartisan cooperation we'll be able to make law well before the government funding deadline at the end of this month," McConnell said.