The Army has conducted its first flight of a CH-47 Chinook with GE Aviation's [GE] T408 engines, the same one used on the Marine Corps' CH-53K helicopter, with additional flight tests likely to take place through the end of the year.
Army Combat Capabilities Development Command Aviation & Missile Center's (CCDC AvMC) said the demonstration follows a five-year cooperative research effort with Boeing [BA] and GE to assess the potential for the T408 to expand mission capabilities for the Chinook heavy-lift aircraft.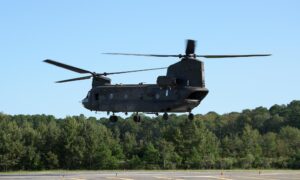 "The CCDC AvMC mission is to conduct innovative research, development, and engineering in order to provide new capabilities for our aviation warfighters, and the T408 program is a great example of this. Integrating a new engine onto a production aircraft is a huge undertaking, but our combined team did a great job moving the program from an engineering concept to flight test, which is a testimony to the capabilities the AvMC team brings to our soldiers," Col. Justin Highley, commander, CCDC AvMC Technology Development Directorate for Aviation Technology, Systems Integration and Demonstration, said in a statement.
The Army said future flights with the T408 engine are expected to include "both hover and forward flight maneuvers at several gross weight configurations," as well as "a flight demonstration event for Army and industry senior leaders to showcase CCDC AvMC's vehicle integration capability."
The 7,500-horsepower T408 engine has 2,500-horsepower more than the current Honeywell [HON] T55 engines on the CH-47 Chinook (Defense Daily, May 20 2019).
"This is another important milestone in determining the feasibility of increasing the capability of the CH-47 Chinook. We are proud to work with the Army and Boeing on the Chinook engine integration and test program" Harry Nahatis, vice president of GE Aviation's Rotorcraft & Turboprop Engines, said in a statement.