The Navy's top acquisition official said while the Columbia-class ballistic missile submarines (SSBNs) are the most impacted by a continuing resolution (CR), if the period before a full budget increases, the service will ask for additional waivers.
The House Democrats proposed CR would keep the government open through Dec. 11 and includes an anomaly, or exemption, for the Navy to procure the first two Columbia-class SSBNs. That anomaly would give the Navy another $1.6 billion for the procurement (Defense Daily, Sept. 21).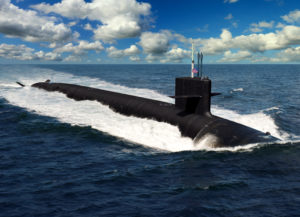 CRs generally block the government from starting new programs and lock in spending from the last fiscal year, but an anomaly makes an exception to the rule.
Assistant Secretary of the Navy for Research, Development and Acquisition, James Geurts told reporters Tuesday on a press call that Columbia is the top priority program for an anomaly but that list could expand.
"By far the largest and most impactful one is Columbia and so that is the one that's got our primary focus. The current CR, as I understand it, is a relatively short CR period…so if that CR period starts to extend we'll have more impact and more things we want considered."
Geurts said for now Columbia submarines are of the "most critical importance, given that we don't have much schedule margin to that program. And so we are poised to start full construction on that, pending getting the CR with that anomaly and then we'll be ready to go."
Earlier this month, Geurts told reporters the SSBN anomaly in a CR would be required to keep the program on schedule (Defense Daily, Sept. 4).
In June, the Navy awarded prime shipbuilder General Dynamics Electric Boat [GD] an $869 million modification to continue procurement work on the submarine with a price option for the first two vessels that would raise the total contract value to $9.5 billion (Defense Daily, June 22).
Speaking during the virtual 2020 Modern Day Marine Exposition, Geurts reiterated that continuing resolutions "by their own nature are certainly disruptive. Uncertainty in CRs make disruption even more disruptive and so I've certainly been vocal that that's a challenge looming in front of us."
However, he noted that "conversely, our teams are adaptive and you know – hope for the best, plan for the worst."
Geurts said they have been challenging the acquisition teams "to be thinking our way through that. Part of that is to have the work lined up and not wait for the money to come before we have the contracts ready to roll and all that kind of stuff."
While he admitted there are things the Navy acquisition team can do to minimize impacts of a CR, "it certainly has an impact on what we do."