The Army is reviewing its 15-year, $16 billion plan to modernize its ammunition manufacturing plants as it looks to make the facilities safer and reduce reliance on foreign suppliers for key materials, officials told lawmakers on Tuesday.
The House Tactical Air and Land Forces Subcommittee pressed the Army on single points of failure and supply chain dependency in its ammo production, as well as concerns over the injuries and several deaths that have occurred at plants in recent years.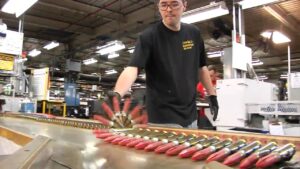 "What is shocking to me, and what should be shocking to anyone listening, is that those facilities look and operate much like they did in the 1940s," said Rep. Donald Norcross (D-N.J.), the subcommittee chair, adding that several plants seem to be in "museum-like conditions."
Gen. Edward Daly, head of Army Materiel Command, told the panel the service is committed to a "comprehensive, revolutionary, holistic 15-year modernization strategy across our ammunition plants and facilities," as it updates the original effort first detailed in 2016.
Daly said he does not expect that an updated plan will be more expensive, but rather refocus priorities on new equipment and areas to reduce reliance on foreign suppliers.
Bruce Jette, the Army's top acquisition official, said the service will look to focus those investments on upgrades to production lines that keep more workers away from explosive materials and improve efficiencies at ammo plants.
"Funding new facilities that are designed to embrace today's technology will improve workforce safety, enable environmental compliance, water, energy efficiency, conservation and resiliency, and establish more efficient and effective production capacity resulting in a greater return on investment," Jette said during his opening remarks.