The Army's Future Vertical Lift (FVL) platforms has received "significant interest" from international partners, according to the lead program official, with eight countries having already sent letters of interest to the service.
"We're pursuing those letters of interest and taking it to the next level [toward] bilateral engagements," Brig. Gen. Walter Rugen, director of the FVL Cross-Functional Team, said during the virtual Defense News
conference. "We've had a number of virtual meetings with our partners to keep the momentum up during COVID. We have very good planning on our 2021 engagements going forward."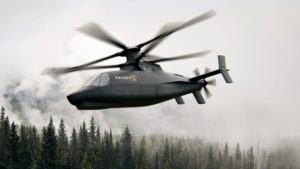 Rugen would not specify which countries have expressed interest in platforms such as the Future Attack Reconnaissance Aircraft (FARA) or Future Long Range Assault Aircraft (FLRAA), while noting the Army has worked on assessing exportability considerations for the next-gen systems.
"The exportability, interoperability and the cooperation is being studied deeply. We're talking about [liaisons] coming into the FVL office. So I would characterize it as a significant interest," Rugen said.
The Army has selected Sikorsky's [LMT] Raider X and Bell's [TXT] 360 Invictus to move forward in its FARA competitive prototyping program, which is aimed at finding a future "knife fighter" helicopter to fill the gap left by retiring the OH-58D Kiowa Warrior (Defense Daily, March 25).
For FLRAA, the Army announced in mid-March that Bell's V-280 Valor and Sikorsky and Boeing's [BA] SB-1 Defiant will continue onto the Competitive Demo & Risk Reduction (CD&RR) phase. FLRAA is the Army's program to find a UH-60 Black Hawk replacement (Defense Daily, March 16).
Rugen also said there will be opportunities for international partners to get involved in the Army's Air Launched Effects (ALE) program, which looks to develop new drones and payloads for its FVL platforms.
Last month, the Army awarded 10 deals totaling $29.8 million to a group of companies to develop ALE air vehicles, missions systems and payloads (Defense Daily, Aug. 25).