The Army has started its major demonstration to understand how its future weapon systems could form a new "sensor-to-shooter" network and is already showing success in making cross-domain target decisions in a matter of seconds, the service's top modernization official said Thursday.
Gen Mike Murray, head of Army Futures Command, told attendees during a virtual Center For New American Security discussion that Project Convergence at Yuma Proving Ground in Arizona is also utilizing a new system called Firestorm to assess how the Army will connect sensors and distribute the massive amount of data to be collected on its next-gen signature platforms.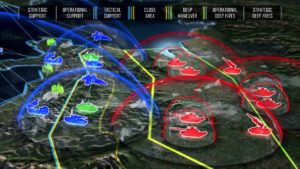 "Detect, decide, deliver and assess. What we're really trying to do in Yuma is all of that but with machine learning, artificial intelligence, deep sensing and how do you speed that process up so we can ensure in the future we are able to see first, understand first, decide first and act first," Murray said. 
Murray said Project Convergence is working towards proving out the ability to bring down the time required to identify and then engage targets from tens of minutes to 10 to 20 seconds.
"We're going to do sensing from the [low-Earth orbit] with some assets, not Army-owned. So there's a piece of the joint and interagency fight right there. We'll do sensing from the aerial layer with Gray Eagle [UAS]. We'll do sensing on the ground. Those will come together and be piped back together to a developmental program, and we have a surrogate at Joint Base Lewis-McChord in Washington that will process the target and pass it back down to Yuma to a shooter. And then we'll put rounds on target, either from a self-propelled howitzer or from a Gray Eagle or a ground platform," Murray said.
Project Convergence is a critical piece to developing the Army's contribution to the new Joint All-Domain Command and Control operational concept, according to Murray, who cited Firestorm as a complementary piece to the Air Force's work on the Advanced Battle Management System. 
"I would argue they're more complementary than they are contradictory. In my understanding, ABMS is the key system the Air Force is trying to drive to create this. We have a system that we call Firestorm that is really our key system to link sensors with shooters. So it's really about how do you connect those two," Murray said.
Air Force officials are set to visit Yuma Proving Ground during Project Convergence to discuss "sensor-to-shooter" advancements, with plans for the service to participate in next year's demonstration. 
"This conversation's going on almost everyday on how we make sure that we're not growing divergent and we're actually converging and understanding how to connect to each other," Murray said. "Because in the end it's about the sensor and the data, and shouldn't matter who owns it. It doesn't matter who owns the shooter either. It's the best shooter across the joint service."