The Army released a request for proposals this week to solicit industry offerings for the Future Long Range Assault Aircraft (FLRAA) competitive demonstration and risk reduction (CD&RR) effort, with plans to make a downselect decision next March.
The competitive demo effort for FLRAA is intended to deliver an initial concept design for the future aircraft set to replace the Army's UH-60 Black Hawk helicopters, as officials look to transition the program from technology demonstrators to a fully-realized platform.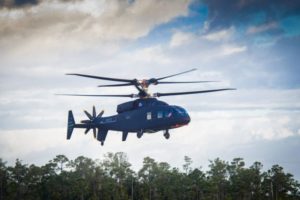 Brig Gen. Walter Rugen, director of the Future Vertical Lift Cross-Functional Team, told attendees at a Thursday Association of the United States Army event the request for proposals (RFP) is the next step following the Joint Multiple Role-Technology Demonstrator (JMR-TD) program, which featured Boeing [BA]-Sikorsky's SB-1 Defiant aircraft and Bell's [TXT] V-280 tiltrotor, and informed FLRAA requirements.
"It's a tip of the hat to the multi-year acceleration the Army's committed to. That competitive demo and risk reduction, we're happy to kick that off this week," Rugen said. "It's pushing us in this risk reduction phase as we really just squeeze out everything we've done and all the great teaming we've seen across JMR. It's taking JMR from a tech demonstrator to a weapons system."
Rugen noted his goal to have the first unit equipped with FLRAA no later than 2030.
The FVL CFT has said a FLRAA offering must be a vertical takeoff and landing aircraft capable of 100 percent maximum continuous power to perform a 500 feet-per-minute vertical rate of climb from a hover out of ground effect at mission start (Defense Daily, April 4).
Patrick Mason, deputy program officer for PEO-Aviation, said the CD&RR effort will help refine final requirements for FLRAA as the Army gains a better understanding of industry's full slate of potential offerings.
"It is the opportunity to get industry's feedback. As we explore the tradespace we can lay in an executable program of record," Mason said.
The Army is soliciting responses for the CD&RR phase of FLRAA through an Other Transaction Authority with the Aviation and Missile Technology Consortium.
The Senate Armed Services Committee has previously called on the Army to consider speeding up its FLRAA timeline and have officials deliver an updated acquisition plan by Oct. 1 (Defense Daily, June 18).