The Air Force needs to quickly develop more units of next-generation capabilities over the next two decades to address near-peer threats, and should not retire its legacy systems before enough new platforms are in the field, analysts said Sept. 5.
The MITRE Corp. and the Center for Strategic and Budgetary Assessment (CSBA) each recently completed a Pentagon-funded study to determine "The Air Force We Need" to combat future great power competition, with both analyses arguing for more aircraft to fill current and future holes in the service's fleet.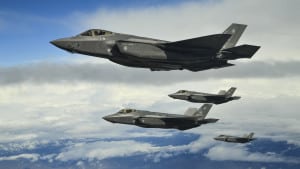 Speaking at an Air Force Association Mitchell Institute event Thursday on Capitol Hill, analysts from both think tanks called for the Air Force to rapidly field new bombers, tankers and fighter aircraft over the next decade, and to begin preparing to replace its strategic airlift platforms, which are currently healthy but will begin retirements by 2030.
"I'm struck that after the fact, three studies conducted independently had many of the same recommendations," said Mark Gunzinger, director of Future Aerospace Concepts and Capabilities Assessments at the Mitchell Institute for Aerospace Studies and a non-resident fellow at CSBA.
While the CSBA study, titled "An Air Force for an Era of Great Power Competition," and the MITRE study, which has not yet been publicly released, each used different modeling techniques to reach their conclusions, each call for the Air Force to focus on increased survivability, lethality and long-range strike capabilities into the future.
Both studies call for the service to increase production and accelerate delivery of next-generation platforms including the B-21 Raider bomber, currently in production by Northrop Grumman [NOC], and the Boeing [BA]-made KC-46A Pegasus aerial refueler, which began deliveries this past January. They also support increasing maximizing procurement of the Lockheed Martin [LMT]-built F-35A Joint Strike Fighter while also seeing a need for new fourth-generation fighter jets, such as the proposed F-15EX aircraft that is currently being considered by Congress and would be built by Boeing.
While the service's current C-17 and C-5M fleets remain healthy for now, upgrades and modernization efforts should continue through 2030, when retirement may begin, the analysts said.
The Air Force should not retire any of its current platforms until it has received "substantial" deliveries of their replacement aircraft, especially for its bomber fleet, warned Dave Gerber, senior principal systems engineer at MITRE on Wednesday. As the service has announced plans to begin retiring its current B-1B and B-2 aircraft within the next decade, MITRE recommends a hold on retirements until B-21 deliveries are steady, around 2035, Gerber added.
"The U.S. needs every bomber it has and investing to raise mission capable rates to at least 80 percent will provide 30 additional flyable bombers out of a current inventory of 157," he said.
Likewise, the Air Force should not consider retiring its legacy KC-135R tanker fleet until a sufficient amount of KC-46A aircraft have been delivered, he continued. The CSBA report also recommends delaying the current plan to retire the KC-10 fleet by 2024 by "two or more years to ensure a sufficient number of KC-46A tankers have joined the force."
Both Gerber and Gunzinger concurred with comments made by Acting Air Force Secretary Matt Donovan at the Defense News conference Sept. 4. that the service will need to consider retiring legacy capabilities to fuel investment in new technologies for the future fight (Defense Daily, Sept. 4).
However, Gunzinger cautioned that divesting old assets so before they are replaced by new capabilities "would, frankly, increase already existing capability gaps." That being said, the CSBA report advocated for retiring aging aircraft such as the E-8C Joint Surveillance Target and Attack Radar System (JSTARS) platforms and the F-15C/D fleets by the mid-2020s, arguing that they will continue to become less survivable as they age.
"In the long run, modernizing the force and recapitalizing it as well will help reduce sustainment costs," he added.
Gunzinger also advocated for divesting excess infrastructure through a Base Realignment and Closure process to support growing the fleet, but acknowledged that it was "not politically feasible."
"The Air Force and DoD writ large has excess infrastructure and if they could divest it and turn some of the savings to investing in acquisition, that would help," he said.