The Army is planning a 'rodeo' event to conclude the assessment period of its Future Tactical Unmanned Aircraft System (FTUAS) program, holding flight demonstrations at Fort Benning in Georgia to gather final data before the program can move into open competition.
The event, which will take place from the end of February through the first week of March, will involve the four UAS offerings for the Shadow drone replacement program that have gone through soldier evaluations over the last year.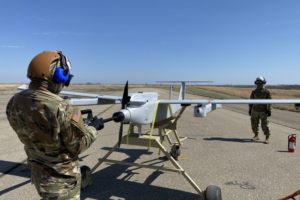 "The FTUAS Rodeo is the capstone event following a yearlong soldier touchpoint assessment of four commercial UAS systems with five Brigade Combat Teams (BCT) each assessing a different system. The rodeo is an opportunity to bring all four systems and members from the five BCTs together in one location for a side by side comparison and flight demonstrations before finalizing the requirements," a Future Vertical Lift Cross Functional-Team spokesperson told Defense Daily. 
The Army has been conducting operational unit evaluations with Martin UAV's V-Bat, Textron's [TXT] AAI Corp.'s Aersonde, L3Harris' [LHX] FVR-90, and Aerovironment's Arcturus JUMP 20 to help inform FTUAS requirements. 
The FVL CFT spokesperson said the Army is "very pleased with the FTUAS soldier touchpoint capabilities assessment," with the five BCTs helping to gather data required to get the "requirements right for a runway independent solution with reduced acoustic signature that is rapidly deployable."
The upcoming FTUAS rodeo is also an additional opportunity for seniors leaders to see the offerings fly before the Army Requirements Oversight Council decides on whether to sign off on the final acquisition strategy. 
"We intend to seek AROC approval as soon as feasible following the FTUAS Rodeo though nothing has been scheduled as of yet," the FVL CFT spokesperson said.