A top Navy official underscored two things that have gotten the new Light Amphibious Warship (LAW) moving relatively quickly: using a requirements evaluation team and working side by side with the Marine Corps from the start.
Speaking during the NDIA Virtual Expeditionary Warfare Conference on Feb. 2, Vice Adm. James Kilby, Deputy Chief of Naval Operation for Warfighting Requirements & Capabilities (OPNAV N9), was asked how the LAW concept has already almost reached the Request for Proposals (RFP) point about 18 months after the concept was first unveiled.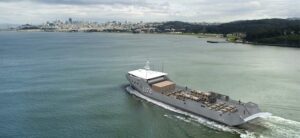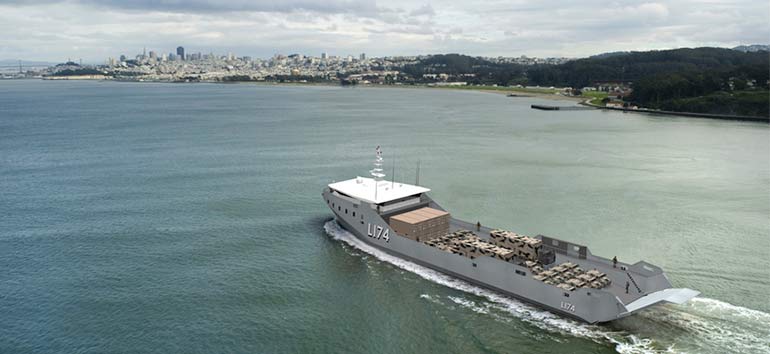 "I would say that LAW in itself was not an immaculate conception of a miracle, it was a benefactor of many things that had happened previously," Kilby said.
The LAW is intended to support the Marine Littoral Regiment by transporting up to 75 Marines at a time up to 3,000-4,000 miles while also holding excess cargo and fuel.
Kilby first underscored that utility of using a requirements evaluation team in this case, rather than doing a typical Analysis of Alternatives (AoA).
"I'm not saying AoAs aren't useful, they are. But sometimes AoAs can go off and cause a lot of study time and we lose some momentum. If you are able to down that specific problem with a kind of a tight left and right limit about what is known, then I think a requirements evaluation team is a powerful idea to go after this."
The Navy was able to get industry working with the requirements evaluation team to iterate ideas faster than in the typical model, Kilby said.
He emphasized this is "not a one-size fits all, but I think it is a powerful tool because you can go back and inform each other."
Kilby said the Constellation-class frigate program is an example of an earlier use of this thinking. There, the Navy "worked through that and looked at industry designs and understood what industry's hard stops were and maybe modified our requirements if we were excluding a good or best answer unwittingly because that requirement prevented that design from competing."
He highlighted the second unusual part leading to a fast LAW development is that in every step of the requirements process the Navy and Marine Corps acted together.
"Now it's a Navy ship, I'm responsible to the CNO to produce the requirements that produce this ship, to service the Marine Corps. But when I took that brief, [Lt. Gen. Eric Smith, Deputy Commandant, Combat Development & Integration and commander of Marine Corps Combat Development Command] was sitting right beside me and we went through that brief and we talked about things."
Kilby said this was an important step because if the Navy produced a design that unintentionally does not address something the Marine Corps is interested in, that slows down the development, requiring an adjudication process to change requirements.
"So let's just do it together up front and make a purpose-built vehicle to do what it needs to do, that's what is important on speed."
Kilby added the operating concepts drove them to that point anyway.
"We're going to align the Navy program to the commandant's force design to be able to deliver what he intends to do with the Marine Corps and the LAW is a clear complement to facilitate this concept, Expeditionary Advanced Base Operations (EABO).
Separately, Kilby compared the LAW to a lowest entry model truck that is flexible and durable, rather than a fancy version that is expensive to repair.
"You should think of the LAW in the Bronco custom model. We want this to be a utilitarian vehicle to get the Marines where they need to go to do what they need to do. So beachability is a significant driver for that requirements design so we can get the Marines where they need to be to conduct that mission."
He continued that the services do not want LAW to be so expensive or exquisite that they do not buy it or buy enough of them to service the planned Marine Littoral Regiments.
Currently, the team is working through the second revision to the top level requirements and adjusting and modifying it.
Kilby reiterated they have basic specifications for LAW with it being 200 feet to 400 feet, some speed requirements, some draft requirements, and some beachability requirements.
"The things we have to work on I think are making sure that we don't allow our appetite to exceed our stomach size and that'll drive the price in a direction that is not helpful. So were working through that now and I think we have to move through it quickly to keep the timeline we need to because we're trying to deliver this ship in a manner that allows a Marine Littoral Regiment the ability to train, operate and exercise quickly."
Last month, Maj. Gen. Tracy King, Director of Expeditionary Warfare (OPNAV N95), said the Navy and Marine Corps are hoping to begin research, development, test and evaluation in a year and buy the first LAW by late fiscal year 2022 so there is time to star conducting exercises with it and get its operational concepts right. The second LAW is aimed for the following year. (Defense Daily, Jan. 14).
In December, a government notice said the Navy intended to issue an unrestricted solicitation for concept studies and preliminary design for LAW in the first quarter of fiscal year 2021, which ended in December. The notice said the Navy intends to award multiple contracts, with concept studies expected to be awarded in FY '21 and a preliminary design option also awarded before the end of FY '21 (Defense Daily, Dec. 9).
The Navy intends to buy up to 30 LAWs that would cost under $100 million each (Defense Daily, May 6, 2020).