The Army has restarted its search to find unmanned ground robots to transport soldiers' equipment after canceling the initial deal in the wake of a protest, with a new contract set to be awarded in April, the program office told Defense Daily on Tuesday.
A new request for proposals has been sent directly to the four original finalists in the Small Multipurpose Equipment Transport (SMET) program, allowing each to recompete for the work.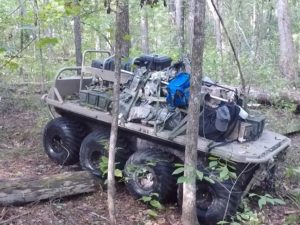 "In response to an unsuccessful contractor's protest to GAO, the Army elected to take corrective action, which involves terminating the original contract and allows offerors that proposed to the original RFP to respond and award a new contract," Lt. Col. Jon Bodenhamer, project manager for PEO Combat Support & Combat Service Support, said in a statement to Defense Daily.
General Dynamics [GD] Land Systems received a $162 million deal last fall to provide its Multi-Utility Tactical Transport vehicles for SMET, beating out Polaris [PII], HDT Expeditionary Systems and Textron's [TXT] Howe & Howe (Defense Daily, Oct. 31). 
The Army terminated the SMET deal in December after Textron filed a protest claiming GD significantly altered its design following a soldier evaluation during the OTA period.
Only the four original competitors, including GD, will have the chance to recompete for SMET, with the program office adding the RFP "was not posted publicly because the competition remains limited to offerors whose prototypes were deemed successful in the technology demonstration event."
The Army has said it wants to field SMET by 2021 with the goal of having the ground robots carry payloads of up to 1,000 pounds, or about nine soldiers' worth of equipment. The robotic vehicles are also expected to travel up to 60 miles over the course of 72 hours.