The Army is planning its third soldier feedback event for the service's future augmented reality headset, being developed by Microsoft [MSFT], in July to inform a low-rate production decision, before holding a final evaluation in spring 2021 ahead of full-rate production, a lead official for the program said Wednesday.
Brig. Gen. Anthony Potts, head of Program Executive Office-Soldier, told attendees at an Association of the United States Army event the Integrated Visual Augmentation System's (IVAS) highly iterative soldier touchpoints has informed a new approach to rapid prototyping and user-centric design that he hopes to expand for future projects.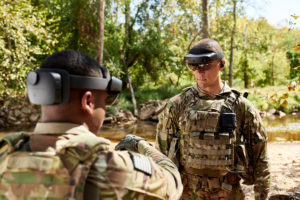 "We have built the IVAS program around trying to achieve as many iterations as we can in a 24- to 27-month period. It's amazing what we've learned every time we've turned one of these things," Potts said.
Last fall, the Army awarded Microsoft a $480 million deal to develop IVAS prototypes, which are based on the company's HoloLens 2 headset, with plans to field the first systems in 2021.
The Army held the first soldier touchpoint in the spring and completed the second soldier evaluation in November, where Potts said the Army integrated the headset with the latest sensors to demonstrate capabilities such as rapid target acquisition.
Microsoft officials were on-site at Fort Pickett in Virginia for the second soldier touchpoint, with the company making daily adjustments to the prototype goggles based on user feedback (Defense Daily, Nov. 19).
Potts said the third soldier touchpoint will take place in July, depending if Congress is able to pass a defense appropriations bill and avoid a long-term continuing resolution. That event would be the first with the ruggedized, military form-factor version of the headset.
"That's going to be a critical touchpoint because we plan to have enough data and information coming out of that touchpoint to make a production decision for increment two or low-rate initial production," Potts said.
The final soldier touchpoint will take place in March or April 2021, according to Potts, and serve as an operational test ahead of a full-rate production decision.
The IVAS development process has re-focused PEO-Soldier's approach to acquisition, according to Potts, around design iteration and sharing increased data with vendors to improve development feedback.
"We have to listen. When a soldier says this sucks, it may not be technical, but it has great meaning," Potts said. "Our number one factor that we evaluate, going forward with IVAS, is do soldiers love it. We could spend a lot of money building something that meets every single one of our requirements, but if the soldiers don't love it and they won't wear it then we have wasted our government's dollars."
Potts cited an example where his team adjusted a goal for IVAS to see distances of 900 meters because the requirement would have resulted in a bulkier headset that decreased soldiers' peripheral vision. PEO-Soldier adjusted the system to see 300 meters ahead while doubling the field of view to 80 degrees.
"We showed it to the soldiers and they said that's what they want. That's the interesting thing, because if we had done it in the traditional way we write requirements we would have never gotten there," Potts said.
Microsoft and PEO-Soldier also established a data management framework early on in the process to better synchronize soldier feedback efforts, Potts said.
"There are no secrets. There are no hidden spreadsheets or databases. We share all the data together," Potts said.