The White House has sent Congress a list of provisions it does not want in the final version of the fiscal year 2021 defense policy, including the renaming of bases named after Confederate leaders and restrictions on divesting from select legacy weapon systems.
In a letter sent Monday to the leadership of the congressional defense committees, the administration raised several areas of "serious concern," which follows the president's previous remarks that he may veto the bill over such items as the base renaming directive.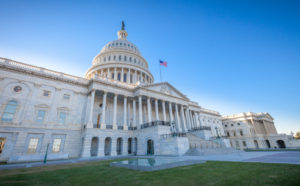 "The administration also has serious concerns about provisions of the bill that seek to micromanage the executive branch's budget formulation, interfere with DOD's ability to execute certain programs, and contravene the President's authority as Commander in Chief," the White House writes in a letter it sent to the leaders of the Congressional defense committees on Monday.
Congress has yet to finalize a conference committee to hash out differences between the House and Senate's versions of the FY '21 National Defense Authorization Act, with lawmakers believing the process will likely only be completed after the Nov. 3 election (Defense Daily, Sept. 9).
The letter cites the White House's opposition to any potential limitations on the Pentagon's ability to divest from a handful of legacy platforms, to include KC-10, KC-135, U-2, RQ-4, F-15C, A-10, manned ISR capabilities, and MQ-9.
Both the House and Senate versions of the bill include some restrictions on Air Force's retirement plans, with certain exceptions or requests for additional data before acceptance (Defense Daily, June 25).
The White House also said it objects to a provision that would allow the Air Force to use six F-35 aircraft that were supposed to be delivered to Turkey but were not delivered after Ankara was removed from the program.
"Although the administration appreciates the flexibility the Committee is attempting to provide, these aircraft are the subject of ongoing discussions with the Government of Turkey, and as such, there are potentially significant issues if the Air Force takes unilateral possession and flies these aircraft before the final settlement has occurred. DOD has placed the aircraft in storage and is working to address restitution to Turkey," the White House wrote.
The administration also said it does not want the final version of the NDAA to include a proposed $310 million reduction for the Next-Generation Interceptor program, including diverting funds into an interim Ground-Based Midcourse Defense capability.
Both the House and Senate passed their versions of the $740 billion FY '21 NDAAs with a veto-proof majority, including bipartisan support for their respective base renaming provisions.