The Army has approved its first Positioning, Navigation and Timing (PNT) program requirement, finalizing the capability development document for the Mounted Assured PNT System (MAPS) development effort.
The milestone is a key step to establishing a program of record for MAPS, which is currently going through prototype testing and soldier feedback evaluations.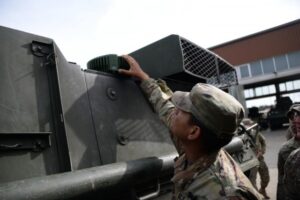 "Throughout the requirement approval process, our priority was to ensure that our Soldiers get the capabilities and systems they need to operate successfully on the battlefield. Our ability to streamline and expedite the requirement process is a success story for the Army's Modernization Strategy, getting advanced, modernized technologies to our Soldiers rapidly," Willie Nelson, director of the Assured PNT Cross-Functional Team, said in a statement. 
MAPS is an anti-jamming capability designed to allow soldiers to continue operating seamlessly in GPS-contested environments, as well as "allowing multiple users to access an assured GPS signal, and other sources of PNT, from one central point."
Last year, the Army equipped over 60 Stryker vehicles in Europe with first generation MAPS technology to begin training soldiers on how to use the equipment and then receive feedback on prototypes.
The Army said it expects to continue fielding MAPS to soldiers in Europe and the Pacific through 2028.
A second phase for MAPS will include selecting a vendor to mature technology as the Army looks to expand fielding opportunities.