The Navy used both manned and unmanned assets to have an Arleigh Burke-class guided-missile destroyer launch and hit a target using a Standard Missile (SM)-6 from over-the-horizon ranges, service officials said Monday.
During the Navy's Unmanned Integrated Battle Problem (UxS IBP) 21 an SM-6 from the USS John Finn (DDG-113) hit the target on April 25. The overall exercise lasted from April 19-26.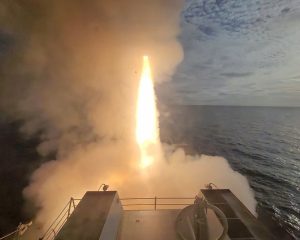 The target was a "relatively small target with a radar reflector as well as a repeater" to allow it to emit an electromagnetic signal, Rear Adm. James Aiken, commander of the UxS IBP 21, told reporters during a press call Monday.
Aiken emphasized the detect-to-engage kill chain of the shot was complex.
"We actually teamed manned and unmanned vessels together. We also used a fusing capability that we're actually doing some experimentation on. It was totally passive where we didn't have any active sensor on the target, we only had passive sensors and then what we were able to do was then pass that information to USS John Finn and then the John Finn was able to shoot at range, well beyond line of sight, to engage with the SM-6."
The Navy also used space assets to help identify the target.
"Once we found the target, then what we did is we were able to track it because of the [electromagnetic signal] that was coming off the target, develop lines of bearing, and then launch the missile."
Rear Adm. Robert Gaucher, director of Maritime Headquarters at the U.S. Pacific Fleet, said from his organization's perspective "we were very pleased with how the integrated battle problem came out, particularly with our ability to integrate unmanned into that battle problem in a contested environment. That's a pretty big deal from where we sit."
Gaucher noted during UxS IBP the Navy was able to get 29 different unmanned technologies into the exercise, with about half surface vessels, 30 percent undersea vessels and about 20 percent aircraft.
"I highlight that above, below and on the surface to get after the multi-domain part of it. We looked at what we wanted out of unmanned through a couple of lenses to grade things. So really focused on what the outputs are," Gaucher continued.
"So, what is unmanned doing to contribute to the fight. So we wanted unmanned to provide us better intelligence, surveillance and reconnaissance so we could put the robot in harm's way instead of the human in harm's way…We want to be able to improve targeting so we get a better solution when we launch."
Gaucher said the Navy wanted to prove unmanned utility to improve targeting and tested that and graded against if they hit the target and they did.
Last week, Aiken said the exercise included three "vignettes" made of the missile shoot, intelligence, surveillance and reconnaissance work (ISR); and manned-unmanned teaming to project power (Defense Daily, April 20).
The Navy elaborated that these other operations included using unmanned systems for anti-submarine warfare (ASW) and surface ISR.
Gaucher also noted the medium-displacement unmanned surface vessels (USV) Sea Hunter and Sea Hawk were operated at the same time to provide potential USV capabilities.
One was controlled from a shore node to aid in theater ASW by towing a towed array searching for undersea targets while the other vessel has an ISR package feeding data to the USS Fitzgerald (DDG-62) to extend the ship's range so Fitzgerald could stay out of harm's way," the Navy said. Officials did not specify which vessel performed which mission.
The officials also noted during the exercise the Los Angeles-class submarine USS Hampton (SSN-767) was able to launch a small unmanned underwater vehicle from a torpedo tube and later recover it without using divers, as is currently standard.
The vehicle then conducted ISR and intelligence preparation of the battlespace missions and helped deliver "kinetic effects in the undersea in support of sub-surface and seabed warfare," Gaucher said.