Thales announced this week it finished contract negotiations with Lockheed Martin [LMT] to supply up to 55 anti-submarine warfare Airborne Low Frequency Sonar (ALFS) units worth over $100 million for U.S. Navy and foreign country MH-60R Seahawk helicopters. 
Lockheed Martin is the prime contractor for the MH-60R naval helicopters.
The agreement covers helicopters used by the U.S. Navy, India, Greece and Denmark, with the non-U.S. recipients collecting the sonars via Foreign Military Sales (FMS) of the MH-60R.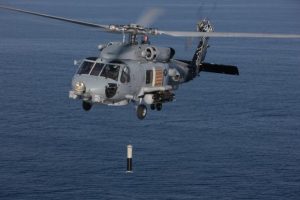 "As a tier-one supplier to Lockheed Martin, Thales will deliver the ALFS systems for installation on the MH-60R helicopter platform," Thales said.
Delivery of the first 42 ALFS systems will occur over the next five years while the following 13 option systems would be delivered in year six.
Thales spokesman Adam Kostecki told Defense Daily the ALFS systems will be delivered to Lockheed Martin in the U.S., installed on the helicopters by the helicopter maker, and then delivered to the Navy.
Thereafter, it is the responsibility of the U.S. government to transfer MH-60R helicopters with the ALFS to other countries under the FMS.
In 2019, the State Department approved a $200 million FMS of nine AN/AQS-22 ALFS systems and 600 AN/SSQ-36/53/62 Sonobuoys to aid in anti-submarine warfare missions (Defense Daily, Aug. 27, 2019).
Then last year, the Navy renewed a $2.3 billion contract with Lockheed Martin for H-60 Seahawk Performance Based Logistics (PBL) support, which included ALFS for the MH-60R. ALFS was not previously supported under the earlier PBL as it is a new system. At the time, the Navy noted ALFS allows for rapid search rate, longer detection range over a wider area, and performs in both deep and shallow water (Defense Daily, Feb. 18, 2020).
Thales said it has delivered over 300 ALFS sonars to the U.S. Navy over the last 20 years, and this new contract will continue supporting Navy readiness. ALFS is known as a dipping sonar, wherein a helicopter deploys and dips the sonar into the ocean to listen for signatures or emit active pings to determine if a target is nearby and otherwise move on to subsequent locations.
The company said its sonar is able to detect, classify, prosecute, harass, or attack submarines and that naval forces need systems like this "to operate with optimum effect on missions including anti-submarine warfare, maritime search and rescue, defense of maritime approaches and fleet protection for naval forces on deployment."
Thales said since it is a low-frequency active sonar, ALFS is designed for the initial detection and tracking of opponents' submarines.
"It offers a long detection range with a wide coverage rate and a low false alarm level, both in deep and coastal waters. It can be used autonomously to clear a particular area or as a complementary anti-submarine warfare asset to sonars on board surface vessels for target relocation and attack," the France-based company said in a statement.
Thales underscored other countries that have chosen its dipping sonar solutions, like ALFS, include Australia, France, Norway, the Philippines, Poland, South korea, Sweden, the United Arab Emirates, and the United Kingdom.
"Earning the trust of the U.S. Navy, its allies and partners around the globe is a source of pride for our team. This contract enhances our position as a strategic supplier to Lockheed Martin and further consolidates the Group's world leadership position in anti-submarine warfare systems. We will continue to improve the performance and competitiveness of our airborne sonars to meet the new anti-submarine warfare operational challenges of our customers." Alexis Morel, vice president of underwater systems at Thales, said in a statement.