President Joe Biden announced Tuesday he will nominate Frank Kendall, a former top acquisition official at the Pentagon, as the next secretary of the Air Force and Heidi Shyu, the Army's former lead acquisition executive, to be the next under secretary of defense for Research and Engineering.
Kendall, who is an Army veteran, last served in the Pentagon as the undersecretary of defense for acquisition, technology and logistics from 2012 to 2017, where he oversaw decisions related to the F-35 and B-21, both key Air Force programs.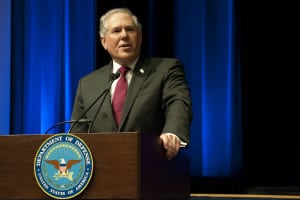 "Frank Kendall is exactly the kind of public servant we need at the helm of the Air Force at a time when the service is navigating so many unique challenges, including effective acquisition to meet our nation's future threats. With more than 40 years of experience in defense and national security, and with a particular focus on acquisition policy during his tenure in the Obama administration, I cannot think of a better, more equipped leader to tackle these issues head on." Rep. Adam Smith (D-Wash.), chairman of the House Armed Services Committee, said in a statement.
Since leaving the department, Kendall now works as independent consultant and also sits on the board of directors for Leidos [LDOS] and Leonardo Electronics USA, according to the White House.
Biden has also nominated Gina Ortiz Jones, a former Air Force intelligence officer, to be the service's under secretary.
Jones, who most recently ran for Congress unsuccessfully in 2018 and 2020 as the Democratic Party's nominee for Texas' 23rd congressional district, has also spent time with the Defense Intelligence Agency and as the director of investment for the Office of the U.S. Trade Representative's Committee on Foreign Investment in the United States portfolio.
Shyu, meanwhile, served as the Army's top acquisition official from September 2012 to January 2016 and is currently a consultant for over a dozen companies and is a member of the Aerospace Corporation's board of trustees, the White House noted.
In her new role, Shyu would oversee the department's expansive technology development portfolio, to include hypersonic weapons and directed energy initiatives.
Prior to her time with the Army, Shyu held several senior roles with Raytheon [RTX], to include vice president of technology strategy for space and airborne systems and vice president of unmanned and reconnaissance systems.