The U.S. Army on Monday signed an agreement with the British Army to work on ensuring interoperability between the two countries' pursuit of future rotorcraft platforms.
Under the new Future Vertical Lift (FVL) Cooperative Program Feasibility Assessment project arrangement, the U.S. and U.K. will share information to advance future rotorcraft development and assess collaboration opportunities related to programs such as the Future Long-Range Assault Aircraft (FLRAA) and the Future Attack Reconnaissance Aircraft (FARA).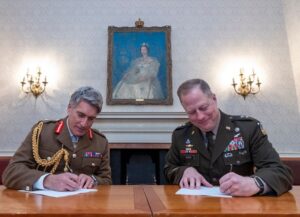 "As you would expect the British Army has an extremely close and productive relationship with the U.S. Army," Maj. Gen. James Bowder, the British Army's director of futures, said in a statement. "Together we are stronger. Our deep science and technology collaboration is an important element of this and makes us both more competitive. Today's agreement formalizes our cooperation to help determine the future direction of aviation in competition and conflict."
The U.S. Army's FVL Cross-Functional Team clarified to Defense Daily that the new agreement does not have terms related to the U.K.'s potential procurement of platforms in development, but rather sets the path for interoperability and development cooperation as Britain assesses its future helicopter path.
"The focus of this project arrangement is interoperability between our forces in future coalition multi-domain operations, regardless of what particular aircraft either country procures in the future," the FVL CFT notes in a document outlining the agreement.
The U.S. Army's FVL campaign includes pursuing FARA to find its new scout attack helicopter, while FLRAA is intended to replace the service's UH-60 Black Hawks.
For FARA, the Army has selected Bell's [TXT] 360 Invictus and Sikorsky's [LMT] Raider X designs for a competitive prototyping phase, with first test flights slated for late 2022. For FLRAA, Bell's V-280 tiltrotor offering is competing against a Sikorsky-Boeing [BA] team's Defiant X platform, with a production contract to be awarded in late fiscal year 2022.
The agreement notes the U.S. and U.K. will "explore and analyze new concepts for the employment of coalition air power in the lower tier air domain" as well as working to "identify opportunities to reduce future rotorcraft program cost, schedule, and performance risk."
Cooperation on future rotorcraft efforts will also include assessing opportunities to collaborate on research and development efforts and providing information to assist in each country's respective decision-making processes related to requirements and programmatic decisions.
"Arrangements like these will ultimately improve our capabilities and strengthen our forces, focusing on joint lethality, survivability and reach, while ensuring affordability for both our countries," Maj. Gen. Walter Rugen, director of the U.S. Army's FVL CFT, said in a statement.