The Army has officially stood up a new program office to lead interoperability and integration efforts for new capabilities under the service's ongoing modernization of its tactical network.
Officials called the new Project Lead Interoperability, Integration and Services (PL I2S) under Program Executive Office Command, Control and Communications – Tactical (PEO C3T) "the centerpiece of the PEO's effort to transform the organization to meet the emerging, cross-functional and rapid acquisition requirements driving the Army's network modernization strategy."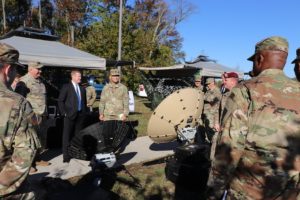 "The stand-up of PL I2S is an opportunity to work hand-in-hand with developers, users, and the Network Cross-Functional Team (CFT) to achieve our mutual goal of delivering unmatched tactical network capabilities to the Army and our allies," Brig. Gen. Robert M. Collins, the head of PEO C3T, said in a statement. 
J. Ward Roberts, the former acting executive director of the Army's Office of the Chief Systems Engineer, has been tapped to lead PL I2S. 
Roberts is tasked with coordinating between the Army's program offices working on tactical network capabilities and "focusing on capability development that will support network interoperability." 
The Network CFT and PEO C3T are currently working together to overhaul the Army's tactical network around capability drops every two years beginning with 2021, in an effort to better keep pace with industry's technology innovations.
PL I2S will also include the new Product Manager Capability Set Development office, which will "work across the PEO's project management offices to promote synergy in planning, execution and risk management, and serve as a touch-point for systems engineering, design and testing," according to the Army. 
The stand-up of PL I2S coincides with eliminating the Project Lead Network Enablers (PL Net E) office, which had led acquisition streamlining efforts. PL Net E's Product Leads for Common Hardware and Tactical Network Initialization and Configuration teams will transfer to PL I2S. 
PEO C3T's offices leading command post integrated infrastructure and tactical cyber and network operations efforts are also transferring to PL I2S.