The Navy awarded L3Harris Technologies [LHX] a $35 million contract on Monday for the detail design and fabrication of a prototype Medium Unmanned Surface Vehicle (MUSV).
The contract also includes options for up to eight more MUSVs, logistics packages, engineering support, technical data, and other direct costs. If all of the options are exercised, the total contract value would rise to $281 million.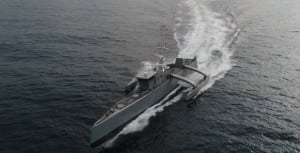 Work will primarily occur in Morgan City, La. and is expected to be finished by Dec. 2022. If all of the options are exercised, the contract work will be extended to June 2027.
The Navy released the final request for proposals (RFP) for the development of the MUSV in July 2019. At the time of the RFP release, the Navy said it planned to conduct a full and open competitive procurement in 2019 and award a single MUSV prototype in the first quarter of FY 2020, followed by delivery of the first MUSV prototype in FY '22 (Defense Daily, July 17).
The Navy defines a MUSV as being 45 to 190 feet long and a displacement of about 500 tons. This MUSV is funded via funds allotted in the FY '19 budget for one MUSV prototype.
The Navy said this program had five competitors, but did nor disclose the other four.
According to a March Congressional Research Service report on unmanned surface and undersea vehicles, initial payloads for MUSVs are planned to be intelligence, surveillance and reconnaissance (ISR) payloads as well as electronic warfare systems.
Navy officials previously said MUSVs and its sister Large Unmanned Surface Vessels (LUSVs) will be tied in with the Aegis combat system and future integrated combat system.
While MUSVs are planned for autonomous operations, last November Rear Adm. Casey Moton, program executive officer for Unmanned and Small Combatants, underscored the Navy will not use autonomy to make decisions related to using weapons systems or kinetic payloads (Defense Daily, Nov. 22, 2019).
USV autonomy will focus on supporting navigation, maneuvering, transit planning and execution, and hull mechanical and electrical system operations.
However, Congress has been skeptical of the development timelines of USVs and is starting to push the Navy to slow its production timetable while technologies are being matured.
The Senate Armed Services' FY 21 defense authorization bill includes provisions requiring the Navy to certify the unmanned vessels and qualify the main engines and generators for unmanned vessels before moving to vessel procurement (Defense Daily, June 11).
The bill specifically would require the Under Secretary of Defense for Research and Engineering to review both unmanned surface and undersea vehicles before they receive full vessel research and development funding and requires a certification that their engines and generators are qualified before moving to procurement. The efforts are meant to catch technical issues earlier and more fully use land-based testing sites for sub-system prototype testing.
The bill report noted "the committee is concerned that an excessive number of unmanned surface and undersea vessels are being acquired prematurely using Research, Development, Test, and Evaluation funds and that these vessels may include subsystems that lack sufficient technical reliability and technological maturity to allow the vessels to meet threshold requirements."
The bill would require qualification of the USV system to include at least 30 days of continuous operations prior to LUSV or MUSV Milestone B approval and requires the use of such engines and generators in future USVs. At Milestone B, acquisition authorities can approve a program to enter the engineering and manufacturing development phase.