Last week a Navy official explained how the service envisions using unmanned surface vessels (USVs) and how prototyping efforts are helping to flesh out operations.
Rear Adm. Casey Moton, program executive officer for Unmanned and Small Combatants (USC), noted the status of the Medium USV (MUSV) and Large USV (LUSV) programs while speaking at a Surface Navy Association lunch on Wednesday.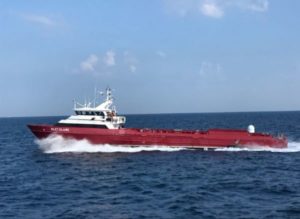 The Navy is planning for the Medium USV (MUSV) to act as distributed sensors with an intelligence, surveillance and reconnaissance (ISR) capability as well as electronic warfare (EW) capabilities. The fiscal year 2019 budget provided the Navy money to buy one MUSV prototype and the service currently has bids in hand for it and is in source selection.
While Moton jokingly said he would not say if the upcoming Force Structure Assessment will count LUSVs as battle force ships, they are slated to conduct combat operations. The Navy currently has two LUSVs from the Office of Secretary of Defense-Strategic Capabilities Office (OSD-SCO) Ghost Fleet/Overlord program and has the Office of Naval Research Sea Hunter. It will get Sea Hunter 2 delivered "fairly soon" and has bids in hand for a concept design contract for LUSVs.
Overlord is a two-phase program, with Phase 1 consisting of testing navigational and mission autonomy as well as converting Hull, Mechanical, and Electrical (HM&E) systems to work autonomously to reduce workload. Moton said the Navy has conducted multiple transits of the Overlord vessels into the Gulf of Mexico with numerous autonomous interactions with international regulations for preventing sea collisions (COLREGS) handled.
"It's not rocket science, there's no unobtanium going on as far as the technology to convert the HM&E plans," Moton noted.
He said it merely requires modifying systems for parts like automated valves and having multiple fuel filters.
Phase 2 of the Overlord conversion has already started and will cover more modifications with more HM&E conversion and putting C4I and unspecific payloads on the vessels. Moton said the Navy will also practice concept of operations (CONOPS) and tactics.
The Navy began Phase 2 Overlord work in early October (Defense Daily, Oct. 2).
PEO USC is now the acquisition agent for Overlord and in the fiscal year 2020 budget request the Navy asked for funds to procure two more vessels. In FY 2021 the Navy plans to transition to equipping the ships with the Vertical Launching System (VLS).
According to the Navy's FY 2020 budget request it intends to procure two LUSVs annually from FY 2021-2024 after using the Overlord vessels as experimentation LUSVs.
While Moton admitted a year-long Continuing Resolution (CR) in Congress would delay the LUSV contract award because it is a new program, the service is also in discussion with Congress on structuring LUSV.
"Now I will tell you, we took some pretty substantial marks from all the committees, a little bit different, on unmanned. And what that's reflective of is a pretty robust discussion about the future of unmanned," Moton said.
For example, he said the Senate Appropriations Committee cut funding for the VLS from the first LUSV.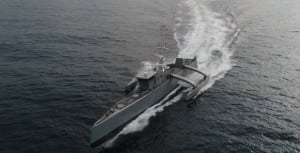 However, he said, "I don't get the sense that there's a should we go unmanned or not. I don't get that sense at all. It's what the best way to get there."
Beyond the CR, "we're also having discussions with Congress about how to move forward in a way that they're comfortable as well. And I will, to their credit – what I will say is Congress has been very willing to have that discussion. We've met with the committees multiple times, it is a two-way conversation."
Moton clarified the LUSV weapons policy will be akin to Aegis engage on remote with other systems, just like another platform.
"The plan is human in the loop on these. LUSV and MUSV are going to be tied in with Aegis and then the integrated combat system. We already have ships…out in the fleet firing weapons or with the ability to fire weapons based off of another platform's fire control data. We already do that," Moton said.
MUSV and LUSV autonomy will focus on supporting navigation, maneuvering, transit planning and execution, ensuring interactions with other vessels are in compliance with COLREGS, and hull mechanical and electrical system operations.
"They will not use autonomy to make decisions with respect to employment of weapons systems or regarding kinetic payload activation, deactivation, or engagement," Moton added.
The manning requirements for LUSVs are still being developed but initially the plan is for it to have a small crew.
"The desire of that is to support getting the ships under way from the pier and out the channel. Right now there's going to be people onboard getting out to the sea buoy, doing some things like force protection, refueling, personnel transfer – all that sort of manpower intensive things – people are going to be onboard."
"LUSV is actually going to be designed to accommodate those folks and then it is going to be designed that at the right time those folks can come off and it can be pushed out under autonomous operation to go do its mission," Moton continued.
In contrast, MUSV will not have any bunks because it will be smaller, "but it's going to have the capability for at least people to get onboard and to get it in and out of port," he said.
Given Congress' concern on operating USVs, "we're working on some of the answers but in terms of those big ones – how it's going to get out, how it's going to do sea and anchor, we are being very measured in how we're going to go do this," Moton said.
However, he admitted there are still plenty of questions left to answer on CONOPS, logistics, sustainment, training, policy, infrastructure, and homeporting needs.
"Our general approach is to use our prototypes to answer those…we're on a very measured approach with the use of prototypes. We're going to do a lot of experimentation – good careful design, good systems engineering, which my folks need to do in terms of reliability and all those things," he said.
Moton said the Navy will continue developing CONOPS once the Overlord and follow-on LUSVs are finished and join thenew Surface Development Squadron One in San Diego, Calif.
"They're going to help us answer the questions…the reason we put them there is to help with the experimentation planning and answer the questions."
Relatedly, Moton said his office is working with industry to make sure the autonomy architecture has standard interfaces and payload producers will use the same types of interfaces before the USVs get produced in larger numbers.
The Navy is also working on cyber security and anti-tamper questions for USVs, he said.