Army officials leading the service's new digital transformation strategy and Unified Network plan have detailed implementation priorities for the next year, to include further experimentation with commercial computing infrastructure and expanding classified network capabilities.
Raj Iyer, the Army's chief information officer, is leading the digital transformation effort and noted 2022 will include further data center closures as more systems move into the cloud, while Lt. Gen. John Morrison, the deputy chief of staff for the Army G-6, said an implementation plan for the new Unified Network construct is likely to be approved by February.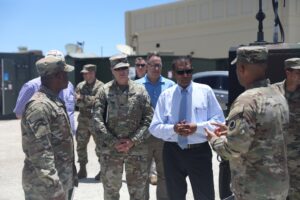 "Starting in FY '22, we will much more aggressively start to close on-premise data centers as we start to move these systems to the cloud and harness those savings for additional data center closures in FY '23 and beyond," Iyer told reporters. "Our modernization efforts moving forward are cloud-first and cloud-native so we can leverage commercial innovation in cloud [computing]."
The Army released its digital transformation strategy in October, which established a series of new information technology initiatives to ensure modernization efforts maximize capability to support future Multi-Domain Operations (MDO) and the new Joint All-Domain Command and Control (JADC2) construct (Defense Daily, Oct. 20).
Iyer noted the digital transformation strategy is the overarching objective that includes a number of individual plans, such as the Unified Network plan, as well as a new data plan that was approved this past Friday and an updated cloud computing plan currently being worked on.
In early October, the Army released the Unified Network plan which aims to synchronize tactical and enterprise networking modernization efforts to bolster capabilities, with a goal to transform the network from a "perceived invisible asset to a weapons system" by 2028 (Defense Daily, Oct. 8).
"The Army's digital transformation strategy provides a great guide post for changing culture across our Army but underpinning that…the network is a central modernization effort for our Army. It underpins everything that the Army digital transformation strategy lays out," Morrison told reporters. "The Unified Network is not a 'thing.' It is an operational framework that aligns our modernization efforts at the enterprise, think strategic and operational levels, with our tactical network modernization so that we can enable Multi-Domain Operations for the force by 2028."
Morrison said the upcoming implementation plan for getting after the Unified Network construct will "assign responsible agents, [set] critical milestones and synchronize governance," adding that critical tasks for the first 18 to 24 months will include figuring out how to best align enterprise and tactical network modernization priorities and expanding the classified network capability.
"In all candor, [enterprise modernization] has been focused primarily on installation modernization at our garrisons, so think about posts across the Army, and ostensibly it's been on NIPRNet. Meanwhile, in the tactical space, it's all about what we're doing with our mission network. So aligning that component of it, getting that security framework in place based on the Zero Trust principles, is absolutely essential," Morrison said. "Operating in this contested and congested space, especially in the cyber domain, is not something that happens just when we get into conflict. It is happening every single day. So putting our most important information on the classified networks with the right security around them is something we will aggressively be working in FY '22 and into '23."
Iyer said 2022 will also include new experimentation opportunities to understand how commercial industry's existing computing infrastructure can complement the Army's own capabilities, noting a key lesson learned from the Army's recent Project Convergence event was network resiliency is "absolutely critical in contested and congested environments."
"A way in which we can accomplish resiliency is through leveraging a lot of the commercial [network] transport, the commercial fiber, commercial computing storage and commercial SATCOM. This is a pivot for the Army in terms of how we would traditionally operate in the past relying on a lot more of the Army and [Department of Defense Information Network] infrastructure. What we're now coming to see is that as we move into new theaters and [areas of operation] where the Army…may not have the infrastructure in place, we're finding that our commercial partners, the Amazon's [AMZN] and Microsoft's [MSFT] of the world, and the Starlink and SpaceX's of the world, actually have capability in place that we can tap into now," Iyer said.
Following the release of the digital transformation strategy, Iyer said he views the plan as being "co-owned" between the Army and industry, as the service focuses on utilizing commercial best practices (Defense Daily, Oct. 21).