The Army will look to increase its engagement with industry as it implements the new digital transformation strategy, a lead official said Tuesday, as the service aims to embrace a more commercial-minded approach for its information technology services.
Raj Iyer, the Army's chief information officer, went as far to say he views the strategy as being "co-owned" between the Army and industry, as the service focuses on utilizing commercial best practices in its push to overhaul digital technology capability and services by 2028.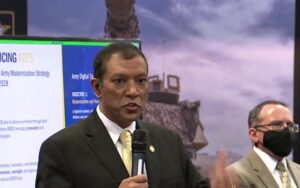 "If you look at how the commercial industry and many companies have transformed themselves in terms of how they have fundamentally changed how they deliver their services by leveraging these technologies, it is mind boggling to see how successful they've been," Iyer said during a C4ISRNET discussion. 
The Army on Wednesday released the new digital transformation strategy which detailed a slew of new modernization initiatives and oversight efforts that aims to maximize IT capability to best support future Multi-Domain Operations (MDO) and the new Joint All-Domain Command and Control (JADC2) initiative (Defense Daily, Oct. 20). 
Iyer said the strategy will take a "radical, transformative approach" to breaking down stovepiped technology areas, with an emphasis on having IT considered a warfighting capability rather than only back office tools.
"For too long we have looked at IT and the technology as 'back office' and ways in which we would help and support and enable the work done by our soldiers, civilians and contractors. But where we're headed with Multi-Domain Operations is that data and these digital technologies are now front and center to how we're going to fight in the future," Iyer said. 
To address the strategy's new modernization initiatives, ranging from cloud computing and advanced data management to network synchronization and security architecture efforts, Iyer said the Army will bring industry into the process earlier to bolster engagement on taking a more commercial-minded approach to upgrading services.
"A lot of times, the Army puts out stuff and then tries to get industry onboard as an afterthought. And I can tell you, the last six-plus months I have engaged in so many excellent discussions with industry, both the traditional defense contractors but also the non-traditional defense contractors, Silicon Valley companies, technology giants," Iyer said. "A lot of times, we see that disconnect. We're talking past each other, in terms of what our expectations are that we're setting with industry and what industry wants to deliver back to us. So I'm hoping this strategy gets us much closer to aligning our vision [with industry] and how we can work together."
The digital transformation strategy also builds on the recently released Unified Network plan that aims to synchronize tactical and enterprise networking modernization efforts to transform the network from a "perceived invisible asset to a weapons system" by 2028 (Defense Daily, Oct. 8).