The Senate's progress on its version of the fiscal year 2022 National Defense Authorization Act (NDAA) has stalled out once again, with lawmakers voting down a measure to end debate on the bill and leadership at an impasse over amendments to receive floor consideration.
Senate Majority Leader Chuck Schumer (D-N.Y.) on Tuesday cited "Republican dysfunction" as the roadblock in moving the defense policy bill forward, while Minority Leader Mitch McConnell (R-Ky.) said Schumer has "botched the floor process" leading to the partisan stalemate.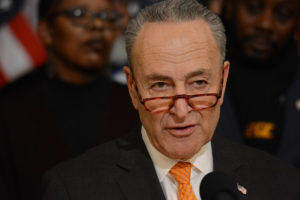 "After spending months insisting that the Senate should take swift action on our annual defense bill, last night Republicans mounted a partisan filibuster blocking this chamber from moving forward on the NDAA," Schumer said during floor remarks on Tuesday morning. "Republican dysfunction has again derailed even bipartisan progress on our annual defense bill, an outrageous outcome that shows how the Senate and Republican leadership have changed in recent years. Previous [GOP] leaders, knowing that Democrats had offered Republicans a whole lot of amendments, would have said let's vote cloture. But not this leader. Not yet."
The Senate made some headway on the NDAA ahead of the Thanksgiving break, advancing debate on the bill after opting to consider a $250 billion China competition package as a standalone item rather than as part of the annual defense policy legislation, which had received Republican pushback (Defense Daily, Nov. 18).
On Monday night, however, the Senate voted 45 to 51 against ending debate on the bill amid Republicans' disagreement over which amendments to consider on the floor.
McConnell particularly noted his push to have a provision considered that would sanction Russia over its Nord Stream 2 pipeline plans that was not included in a package of nearly 20 amendments set to be debated on the floor.
"It is especially bizarre to see the Democratic leader so intent on blocking the Senate from dealing seriously with the growing aggression from Putin's Russia. He seems downright desperate to block new bipartisan action on Nord Stream 2. It's really quite strange to see," McConnell said during floor remarks. "If there's opposition to the amendment it can be improved with modifications and, by all means, let's have a public debate."
Schumer said he believed the amendments process he and Senate Armed Services Committee Chair Jack Reed (D-R.I.) offered with Republicans was "more than fair and reasonable," noting the proposed deal to consider 19 amendments was more than received consideration in the previous four years combined.
"19 amendment votes, Mr. Chairman. 19. That is more than the total number of amendments to NDAA that received votes under the Republican majority and under Leader McConnell when we debated this bill in 2017, '18, '19 and '20. Not more than in each year, [but] more than in all of them put together," Schumer said, noting the package included bipartisan measures aimed at combating ransomware, repealing the 2002 Iraq AUMF, supporting improved cyber defense of critical infrastructure.
The House has already passed its $768 billion FY '22 NDAA in late September with a bipartisan 316 to 113 vote, but the two chambers must still meet in conference to iron out differences between the two versions of the bill (Defense Daily, Sept. 24).