President Biden on Tuesday announced he will nominate William LaPlante, the Air Force's former procurement chief, to be the Pentagon's under secretary for acquisition and sustainment.
LaPlante, who currently serves as president and CEO of Draper Laboratory, would fill the department's acquisition leadership role which has not had a permanent official in place since Biden took office.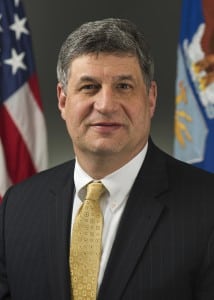 "Dr. William A. LaPlante is a seasoned national security leader with nearly four decades of experience in acquisition, technology, sustainment and the defense industrial base. Dr. LaPlante has spent much of those decades delivering material as well as conceptual innovations to enhance national security capabilities and efficiency," the White House wrote in a statement.
During the Obama administration, LaPlante served as assistant secretary of the Air Force for acquisition, technology and logistics from February 2014 to November 2015.
"In that capacity, Dr. LaPlante aligned that service's $43 billion acquisition enterprise budget with the Air Force vision and strategy. In addition, he forged a path forward on critical Air Force acquisition programs such as the B-21 long range strike bomber, while realizing nearly $6 billion in 'should-cost' savings in other Air Force programs," the White House wrote.
In his current role leading Draper Laboratory, the White House said LaPlante is focused on "emerging technology and the global competitive innovation landscape."
LaPlante previously served as senior vice president for MITRE Corporation's national sector, where the White House noted he "drove the development of advanced command and control, and system of system concepts, as well as cyber systems and supply chain resiliency approaches."
Michael Brown, director of the Pentagon's Defense Innovation Unit (DIU), was the Biden administration's original nominee to be the department's acquisition leader before he withdrew his nomination in July (Defense Daily, July 14).
Brown said his decision was related to an ongoing investigation by the DoD inspector general into his personnel practices at DIU that could delay consideration of his nomination by up to a year.
Later that month, Defense Secretary Lloyd Austin said he was "concerned" the department does not have a permanent acquisition chief in place (Defense Daily, July 21).