The Senate's top defense appropriator last week criticized Republicans' "unprecedented obstruction" in moving spending bills forward and said a potential year-long continuing resolution could amount to a $70 billion impact on the Pentagon and Department of Veterans Affairs.
Sen. Jon Tester (D-Mont.), chair of the Appropriations Defense Subcommittee, said operating under a stopgap funding bill for a full year is "not workable," and urged lawmakers to make progress on bipartisan spending deals with the next government shutdown deadline looming on Dec. 3.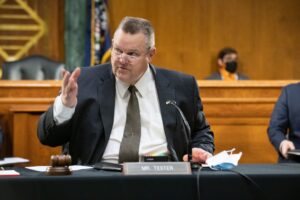 "We are now seeing unprecedented obstruction by the minority party to passing a budget that will fund the programs that our military and our veterans need," Tester said during floor remarks on Nov. 18. "Now look, if Republicans succeed in this obstruction, I'm going to tell you the government will be forced to go to a full-year continuing resolution. That's not workable. The result will be frozen spending levels for the Department of Defense, for the Department of Veterans Affairs, which amounts to a $70 billion cut in spending for those two agencies alone compared to the appropriations bills prepared in this Senate."
Senate Democrats' $726 billion fiscal year 2022 defense appropriations bill, rolled out in mid-October, drew a quick rebuke from GOP lawmakers over the legislation's five percent increase in military spending relative to the 13 percent boost in non-defense spending across other funding bills (Defense Daily, Oct. 18).
Tester said the Senate's defense spending bill would be a $31 billion increase of last year's level, which he called a "pretty good chunk of dough."
"Look guys, we are under a continuing resolution right now. It expires on Dec. 3. If, in fact, we had a budget deal today, we couldn't get an omnibus [bill] out for another five weeks. So what I am saying is this, no more finger pointing, no more changing the rules of the game, no more foot dragging," Tester said. "Let's go into negotiations to get to yes. Let's all work together. Let's not play irresponsible political games with our military and with our veterans and with everybody else that lives in this country."
Sen. Jack Reed (D-R.I.), chair of the Senate Armed Services Committee, also called on lawmakers to come together on a spending deal to avoid another CR, noting his panel moved to boost the National Defense Authorization Act by $25 billion above the president's budget request and before the appropriations bill was released.
"The topline defense number in this bill, together with the allocations set by [Appropriations] Chairman [Patrick] Leahy (D-Vt.) for defense and non-defense funding across the 12 appropriations bills, provides a realistic balance for funding the military and the rest of the federal government. Once we have completed work on [the NDAA], we need to complete the appropriations process," Reed said during floor remarks on Nov. 18. "It would be a tremendous mistake and harmful for our national security, our economic prosperity, and our public health, to resort to a continuing resolution to fund the government for an extensive period"
The House Appropriations Committee in July voted 33-23 to advance its $706 billion version of FY '22 defense spending bill out of committee (Defense Daily, July 13).