The U.S. government will pay $10 million to Thales Visionix under an agreement that resolves a patent rights infringement case related to helmet-mounted display systems (HMDS) developed for the F-35 program, according to the law firm representing Thales.
Thales Visionix first sued the federal government in 2014 claiming unauthorized use of its patented technology in the F-35 helmets specifically related to the motion tracking capability using inertial sensors, according to a statement from the law firm AddyHart.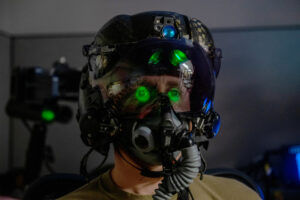 "AddyHart is very pleased that this long-running case has reached a successful conclusion and that Thales' remarkable advances of the HDMS for the F-35 embodied in the [patent] have been respected," AddyHart wrote in its press release. "It has become increasingly difficult for patent-holders to secure their rights in recent years, and we only regret it took so long for Thales to get here."
Elbit Systems of America, which supplies the motion tracking technology for the F-35 helmet, had previously joined the case as a third-party defendant.
"The recent order issued by the Court dismissed the claim with prejudice, pursuant to a settlement agreement entered into between Thales Visionix and the U.S. Government. Under the settlement, Elbit Systems of America and its affiliated companies were released from liability with respect to the claim, without a finding of patent infringement and no imposition of any payment or other obligation," Elbit Systems of America said in a statement to Defense Daily.
The formal filing of the settlement agreement was filed in the U.S. Court of Federal Claims on Nov. 9, according to AddyHart.
Thales' Scorpion helmet-mounted display system is currently used on platforms such as A-10s, F-16s and AC-130s.
In August, Thales detailed its interest in providing capabilities for the Army's Future Vertical Lift fleet, to include an HMDS based on Scorpion that it said would function as an "expansion of the technology into an all new capability" (Defense Daily, Aug. 13).
"With the helmet-mounted display, the head tracking and the processing, all those technologies move at different speeds and we are able to, in a modular way, remove and replace if the technology changes. All that is now being enhanced and updated in an internal development program in concert with the U.S. Army and the key stakeholders. We have demonstrated the system. It's not ready for public release yet," Jim Geraghty, vice president of Thales Visionix, said at the time, adding that more specific details will likely be announced in the coming months.