President Biden on Wednesday announced the U.S. will send another $800 million in military equipment to Ukraine, to include the first deliveries of artillery equipment as well as armored personnel carriers, helicopters, drones and radar systems.
Details of the new security assistance package arrived the same day as the Pentagon met with the leaders of major defense contractors to discuss the rate of production for systems that have been delivered to support Ukraine in its ongoing fight against Russia's invasion of the country and the possibility of accelerating and expanding those production lines.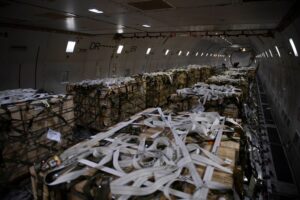 "Now I want to stress that we have not reached a level of inventory of any of these systems that are impacting our readiness abilities, but we don't want to get to that point before we start to have a conversation with industry about replenishment and the production line going forward," Pentagon Press Secretary John Kirby said during a Wednesday briefing. "It was a good discussion. We were very grateful. I want to say that right at the top, we were very grateful for their willingness to come on in and have this discussion."
Deputy Defense Secretary Kathleen Hicks led the discussion, according to Kirby, who said the meeting included Boeing [BA], L3Harris Technologies [LHX], Raytheon Technologies [RTX], BAE Systems, Lockheed Martin [LMT], Huntington Ingalls Industries [HII], General Dynamics [GD] and Northrop Grumman [NOC].
Kirby said the roundtable discussion was "part of a normal, scheduled routine conversation" the Pentagon has with industry leaders, while this particular meeting focused on the situation in Ukraine and associated aid to the country.
"I would fully expect that there will be additional roundtable discussions going forward with these CEOs and perhaps others as time goes on," Kirby said.
Biden spoke with Ukrainian President Volodymyr Zelensky on Wednesday about the new $800 million in military aid, which is now part of the $3.2 billion in security assistance to Kyiv over the last year and more than $2.6 billion since the beginning of Russia's invasion in February.
"The Ukrainian military has used the weapons we are providing to devastating effect. As Russia prepares to intensify its attack in the Donbas region, the United States will continue to provide Ukraine with the capabilities to defend itself," Biden said following his call with Zelensky. "This new package of assistance will contain many of the highly effective weapons systems we have already provided and new capabilities tailored to the wider assault we expect Russia to launch in eastern Ukraine."
The new $800 million in equipment will be drawn from existing Pentagon stockpiles and includes 18 155mm howitzers and 40,000 artillery rounds, 10 AN/TPQ-36 counter-artillery radars, two AN/MPQ-64 Sentinel radars, 300 Switchblade drones, 500 more Javelin missiles, 200 M113 armored personnel carriers, 100 more Humvees and 11 Mi-17 helicopters.
Kirby said the capabilities announced today "are tailored to meet urgent Ukrainian needs for today's fight as Russian forces shift the focus of their ruthless aggression now to eastern Ukraine," to include the first time the U.S. has provided artillery capability to support Kyiv's fight.
"And, again, that's reflective of the kind of fighting that the Ukrainians are expecting to be faced with here in this little bit more confined geographic area. They specifically asked for fires support and specifically asked for artillery support," Kirby said.
The new security equipment package also includes "unmanned coastal defense vessels," 30,000 sets of body armor and helmets, over 2,000 optics and laser rangefinders, C-4 explosives and M181 Claymore anti-personnel munitions.