NASHVILLE, Tenn. — Sierra Nevada Corporation (SNC) expects its new RAPCON-X aerial intelligence, surveillance and reconnaissance (AISR) jet to be ready for deployment by November 2023 as it looks to offer the platform to the Army, company officials recently told
Defense Daily.
Tim Owings, executive vice president of SNC's Mission Systems and Technology business area, said RAPCON-X, which is a modified Bombardier Global 6500 jet, is designed with an emphasis on open architecture and model-based systems engineering for rapid mission reconfiguration and architected to operate within the future JADC2 framework.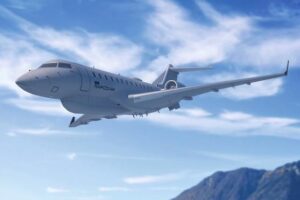 "We started [on RAPCON-X] about eight or nine months ago when it became clear as the military was pivoting from this classic [counterinsurgency] fight environment to more of the peer-to-peer that the turboprop fleet was just not going to be able to support the new mission set. So even ahead of there being an official requirement, we began investing in the technologies that would be required to delivered RAPCON-X," Owings told Defense Daily during an interview at last week's Army Aviation Association of America (AAAA) annual conference here.
Owings said SNC has procured two jets so far for RAPCON-X, which would be offered as a contractor-owned and operated service, and is being developed with 100 percent internal company funding.
"We've ordered the parts for the two platforms. Engineering is well underway. We already completed a pretty extensive requirements tree and review. So we're off and running now with the platform," Owings said. "For very specialized missions, [the customer] doesn't want to have to train a lot of soldiers to be able to do those missions. So what we do is we'll operate the mission. We'll provide the data back to them. They'll do the things that are uniquely military, but we'll provide that as a service to them so they're not having to deal with maintenance of the aircraft, training people for that, training people for operating very specific signals intelligence sensors."
While the Army's fiscal year 2023 budget request does not include funding for fixed-wing platforms, Owings noted the service has signaled support with continuing programs to advance the ISR jet space.
"I can tell you, having both been a former Army employee and now at Sierra Nevada, the Army is completely aligned to move this thing forward. So we are very confident that this migration into this new set of [fixed wing] platforms is going to happen," Owings said.
Owings said RAPCON-X will have capability for high-fidelity signals collection, a long-range radar system, the ability to interoperate with a full range of networks to enable JADC2 functions and will include SNC's TRAX software solution.
"With the TRAX software package, we actually are the one system that's gone through this JADC2 gauntlet of full [Joint Interoperability Test Certification]. So it's been certified by third parties in terms of its interoperability. It's proven. It's been fielded. We've been fielded with SOCOM since 2012. The Army has procured it as an enterprise solution for what's referred to as the data fabric. So that system is well-vetted and well-tested," Owings said.
On the model-based systems engineering and open systems architecture piece, Owings said the focus there aligned with the Army's approach to ensure its future aviation fleet is capable of rapid integration of new capabilities while reducing vendor lock.
"What it allows, much more so than traditional designs, is that we can lift whole chunks of engineering from one product flow to the other and then we have complete alignment from a certification perspective. For us, we're seeing it dramatically cut our timelines in terms of how fast we can get the engineering piece done," Owings said. "We believe [RAPCON-X] offers the chance to reconfigure itself in hours or a day or so rather than in weeks as things are happening now."