Raytheon Intelligence and Space [RTX] said Monday its Stryker-mounted 50-kilowatt laser prototype with Kord Technologies
successfully defeated 60mm mortar rounds and "several small, medium and large drones" during recent Army testing.
The companies detailed the recent operational testing with the Directed Energy Maneuver-Short Range Air Defense (DE M-SHORAD) system at White Sands Missile Range in New Mexico, which Raytheon said included "multiple tests simulating real-world scenarios."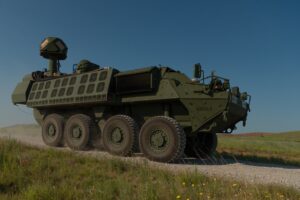 "Soldiers in the field face increasingly complex threats, and our combat-proven sensors, software, and lasers are ready to give them a new level of protection," Annabel Flores, president of electronic warfare systems for Raytheon Intelligence & Space, said in a statement. "The Army gave us our toughest challenge yet — countering rockets, artillery and mortars — and we took an essential step on the path to providing the maneuverable, short range air defense soldiers need."
Kord Technologies is providing the 50 kilowatt laser for DE M-SHORAD, and last August the Army officially selected Raytheon to serve as the laser module integrator for the prototype program (Defense Daily, Aug. 18).
DE M-SHORAD is the Army's program to deliver an on-the-move laser system capable of taking down unmanned aerial systems, rotary-wing aircraft and rockets, artillery and mortars, with the first set of prototypes set to be delivered to a unit at Fort Sill in Oklahoma by the end of September (Defense Daily, Jan. 13).
In November, the Army announced plans to award Kord Technologies another prototype deal to deliver eight additional DE M-SHORAD prototypes, with four to be delivered in fiscal year 2023 and four more in FY '24 (Defense Daily, Nov. 19).
The DE M-SHORAD program will eventually transfer over to the Army's Program Executive Office Missiles and Space, which will then likely conduct a full and open competition for the eventual production contract.
Lockheed Martin [LMT] said last October it is developing the Directed Energy Interceptor for Maneuver Short-Range Air Defense System, or DEIMOS, in pursuit of the expected DE M-SHORAD production competition in FY '23, with plans to demonstrate the capability in late 2022 (Defense Daily, Oct. 11).