DUGWAY, Utah — Over 30 first time technology events, participation from seven international partners and the launching of the largest "wolf pack" swarm of new Air-Launched Effects (ALE) drones to date. The Army last week concluded its second Future Vertical Lift (FVL)-led EDGE experiment here at Dugway Proving Ground, where senior officials said the service has made progress in advancing the potential of the aerial tier network and emerging technologies for the future battlefield with new achievements for speed, range and networking capacity.
After working through 67 technical objectives with more than a dozen new technologies, Maj. Gen. Walter Rugen, director of the FVL Cross Functional Team, told reporters during an EDGE22 media visit he's confident the service can transition the new capabilities and concepts worked at the event from the science and technology world into the future aviation ecosystem.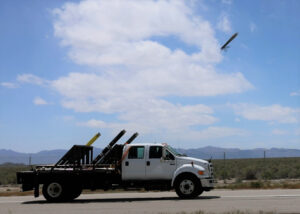 "Again, we're flying before we buy. It's kind of our tried and true moniker," Rugen said. "I think when you look at this interactive wolf pack [drone] swarm, that is new from last year. We were talking kind of about a bee swarm last year. When you talk about the network, we're far more robust and the cross-domain solutions are not fictional and on a white board, they were in the dirt. Not only were they in the dirt, we saw some learning at the coalition level. I don't want to oversell that, but we had very good reps and sets with our coalition partners and with cross-domain solutions."
Officials said EDGE22 built off successes from last year's inaugural event, where the Army demonstrated over 50 new "technology firsts" and brought emerging technologies "into the dirt" to inform how new capabilities can bolster the lower tier of the air domain's ability to "close the joint kill chain" (Defense Daily, May 17 2021).
This year's event brought in seven international partners–Australia, Canada, France, Germany, Italy, Netherlands and the U.K.–with officials telling reporters the service is making progress getting after an aerial tier network that can support future joint and coalition operations, while collecting massive amounts of data that will inform continued capability development work.
"The foundational work that we've done in parallel with these demonstrations has been focused on making sure the architecture and the ability exists for us to rapidly and affordably bring a capability to the field that leverages what we're seeing here," Brig. Gen. Robert Barrie, program executive officer for aviation, told reporters. "What an opportunity like this does is illustrate the complexity of the future battlefield and helps us prioritize that incremental approach. So we're not going to be able to do everything at once, but seeing it employed by soldiers with actual technology gives us a clearer path for how we can incrementally approach achieving this desired end state."
A key objective at EDGE22 was flying the largest swarm of ALE-Small prototype drones to date, in what the Army has dubbed a "wolf pack" effort that involves sending out successive waves of the unmanned systems to assist in a tactical scenario.
The "wolf pack" effort built on "advanced teaming" software developed out of the Army's DEVCOM Aviation and Missile Center, which aims to allow a human user to assign tasks to multiple drones that then operate autonomously, with the largest such drone swarm at EDGE involving seven ALE-Smalls.
The ALE-Small prototype, which is an ALTIUS-600 drone built by Anduril Industries subsidiary Area-I that has flown previously at last year's EDGE experiment and this past fall's Project Convergence, operated on multiple waveforms for the first time at this year's event, doubling the range for its data transport capacity.
"I think what we're seeing with drones is that they're extending our reach even farther. So we've got to make sure our concepts align with that technology and make sure that, just because the drone can go that far, can we communicate that far, can we sense that far and then we can operate in a tough neighborhood that far. We don't want all of our stuff to go in and then just get jammed or what have you and then just fall out of the sky," Rugen said.
The tactical scenario at EDGE22 focused on simulating the ability to set conditions for a "wet gap" or river crossing in a European Command-type environment, to include locating and targeting an adversary's integrated air defense system.
First, new capabilities such as the Long Range Radar from the Army's High Accuracy Detection and Exploitation System (HADES) program and Hamdani Kraus' K-1000 solar-powered glider help to identify targets.
Then, a first wave of ALE-Smalls are sent out via a ground-launched mechanism with truck-mounted tube launchers developed by Army engineers as well as from rail launchers, to perform reconnaissance, detecting and confirming those targets and reporting back that location data.
A second ALE-Small swarm is then sent out to overwhelm enemy threat systems, providing further confirmation of targets, before a third swarm is launched with kinetic effects to either take out the target or allow for a long-range fires effect, with a final fourth swarm used to conduct battle damage assessments.
The operational scenarios at EDGE, which also includes an IVAS-enabled air assault and a second combined air assault with the international partners, is aimed at demonstrating the increased stand-off ability the new technologies afford the Army and partners by being able to operate faster, at a longer range and with greater survivability, according to officials.
DARPA also participated in the drone swarming experimentation at EDGE22 with their System-of-Systems Enhanced Small Unit (SESU) technology, which allows for multi-modal search and targeting on unmanned systems, setting a potential path for the Army to leverage the technology for its own advanced teaming efforts.
After flying Kraus Hamdani's K-1000 glider at last fall's Project Convergence, the Army brought the systems to EDGE22 to provide advanced communications relay or "network bridging capability," highlighting the system's potential to fly for extended durations and its solar power technology offering the ability to take off at 50 percent battery power and land nearly-fully charged.
"What was kind of very neat about the Kraus' [K-1000P] is they usually came back with more power than they left. So that solar [power] capability was tremendous for our persistence on the battlefield," Rugen said.
The Army also fired a Hellfire missile from its new Modular Effects Launcher (MEL) prototype for the first time at EDGE, noting the system has passed its first design review as it's set to be a part of the government-furnished equipment for the Future Attack Reconnaissance Aircraft.
The MEL was conceived in 2020, with a prototype then built by Fulcrum Concepts, a small company in Virginia, with reporters seeing a configuration at last fall's Project Convergence integrated on a Black Hawk that consisted of carrying a four-shot rocket pod, two pneumatic launchers for Air Launched Effect (ALE)-Smalls and an M34 dummy Hellfire missile (Defense Daily, Nov. 9 2021).
"I think what we also saw with our prototypes is you see a lot of…bulky things that aren't necessarily ready to deploy. So a lot of our IVAS-enabled air assault where we're stitching sensors from the aircraft back into all the members of air assault task force, both the infantry soldiers in the back to the aircrew in front, obviously a lot of that stuff looks like monster garage, frankenstein kind of stuff. But what it's doing is it's informing the requirements and it's informing the concept," Rugen said.